Community Profiles University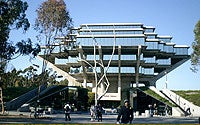 The University Community planning area encompasses approximately 8,500 acres. The area is bounded by Los Peñasquitos Lagoon and the toe of the east-facing slopes of Sorrento Valley on the north; the railroad track, the Marine Corps Air Station Miramar and Interstate 805 on the east; state Route 52 on the south; and Interstate 5, Gilman Drive, North Torrey Pines Road, La Jolla Farms and the Pacific Ocean on the west.
Draft University Community Plan Transportation Element Amendment (June 2016)
Draft Program Environmental Impact Report
University Community Plan Amendment
The University Community Plan (UCP) is undergoing an amendment to the Transportation Element of the Plan. The Amendment will analyze and update the transportation facilities necessary to serve existing and future development in the University Community Plan Area. The Amendment will analyze the impacts of the removal of Genesee Avenue Widening and the Regents Road Bridge for the UCP, and consider any additional issues identified through the amendment process. The Amendment was initiated by City Council on Sept. 29, 2014.
Notice of Preparation (NOP) for the UCP Amendment Environmental Impact Report (EIR)
The NOP was issued on Dec. 2, 2016, and a Scoping Meeting was held on Dec, 16, 2015
University Existing Conditions Report
The University Community Plan Existing Conditions Report is now available. The purpose of the Community Plan Existing Conditions Mobility Report is to summarize the existing conditions within the community for all modes of transportation and to identify potential deficiencies and conflicts that could be addressed through future changes in the transportation network. The existing conditions report is a critical building block in the preparation of the land use plan and future mobility network. Key purposes of the existing conditions report include:
Summarizing traffic volume and accident data collected,

Describing the analysis methods and techniques,

Evaluationg existing mobility conditions,

Establishing a baseline condition for the environmental documents, and

Educating the stakeholders and plan prepares of current conditions