General Plan Housing Element and Reports
The General Plan's Housing Element is the City of San Diego's housing plan.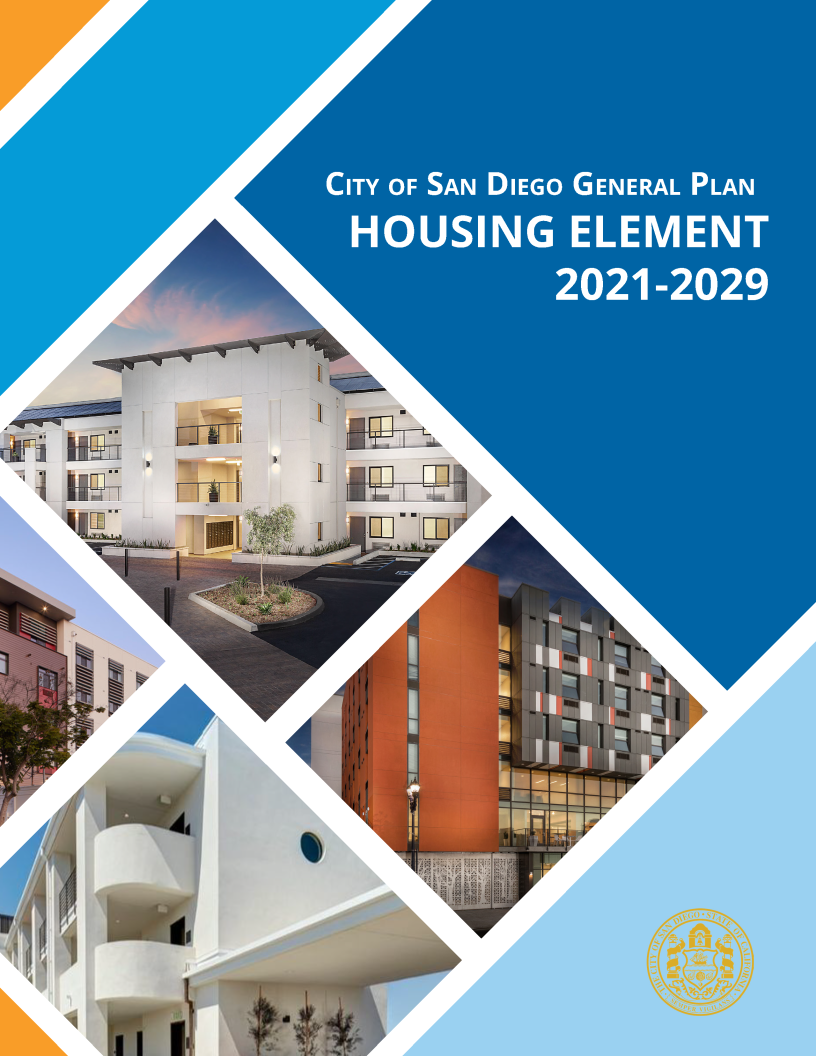 The City, along with all California cities and counties, is required to adequately plan to meet the housing needs of everyone in the community and to update its plan every eight years. The foundation for the Housing Element is the Regional Housing Needs Assessment (RHNA), in which the State estimates each region's housing needs for all income groups for the upcoming eight years. Each region (for San Diego, the region is all of San Diego County) then determines how much of the region's total housing needs to be produced for each city and county in the region. The City of San Diego's portion of the County's RHNA target for the 2021-2029 Housing Element period is 108,036 homes. This goal is further broken down by income group.
The 2021-2029 Housing Element is the sixth update to the Housing Element and is also referred to as the 6th Cycle Housing Element. In the Housing Element, the City must identify enough potentially developable land zoned for residential use to meet the City's new RHNA housing capacity/production target and must provide goals, objectives, policies, and programs to meet the housing needs of San Diego's citizens.
Housing Element 2021-2029
On June 16, 2020, the San Diego City Council adopted the 2021-2029 Housing Element. The City subsequently adopted revisions to the Housing Element in June 2021 to meet the certification conditions identified by the State of California Department of Housing and Community Development (HCD) in their October 2020 compliance letter. The Housing Element received full certification from HCD on Sept.  10, 2021. The adopted Housing Element can be accessed through the links below. Important content is found in both the main body of the Housing Element and in its appendices.
El Elemento de Vivienda es una visión estratégica y una guía de políticas diseñada para ayudar a abordar las necesidades integrales de vivienda de la Ciudad durante un período de ocho años.
The Sept.  10, 2021, letter from HCD finding that the City of San Diego's General Plan Housing Element 2021-2029 in compliance with State law is available at the following link.
The City sent a letter to HCD on Sept.  15, 2021, in response to the HCD Compliance Letter. The letter is available at the following link.
Strategic Plan Priority Areas of Focus
This program focuses on the following priority areas of the Strategic Plan:
Create Homes for All of Us
Ensures key data is collected and tracked to meet the City's goals for providing homes for people in all communities.
Monitors the City's housing programs to identify additional actions needed to achieve homes for all of us.