History
The history of the opera preview lectures dates to the mid-1950s. Shortly after the downtown Central Library opened on June 28, 1954, the library began holding an annual "Music Week" that featured concerts, displays, distribution of booklists, and other activities relating to music and opera. Then on the evening of October 30, 1955, the library presented what appears to have been the first of the Opera Preview Lectures. A complete recording of Puccini's Tosca was played to a library audience as a preview of a performance of Tosca that was being given at a local theater by the San Francisco Opera Company. It was a Saturday night, and the number in attendance was small.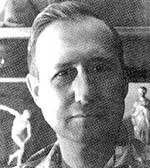 The person who was most instrumental in developing the lecture series was Mr. William Vere Wolf. Vere Wolf, as he was more commonly known, had joined the staff of the Art, Music and Recreation Section as the third assistant Librarian on January 2, 1955, and was the Music Librarian for many years. A graduate of the University of Illinois Library School, he had a Master of Music degree as well as teaching experience in Illinois. He established the library's Sunday concert series showcasing local musicians and created an in-depth collection of opera, vocal and instrumental scores which still serves the music community of San Diego well. However, he was most loved for his series of opera lectures previewing San Diego Opera performances. From 1956 to 1991, he served as the opera preview lecturer for the San Diego Opera, offering presentations on specific productions and general topics of opera in venues throughout San Diego County. He helped to introduce thousands of people to opera.
Previously the Series has been given by the staff of the San Diego Opera, including staff lecturer Dr. Ronald Shaheen as well as Dr. Nicolas Reveles, Geisel Director of Education and Outreach.