SDPL Recommended Books
Staff Picks 2017
San Diego Public Library staff write short book reviews of their favorite titles for the San Diego Union Tribune, which are published every other Sunday. These are a selection of the titles we've recommended. Checkout information may be found in the library catalog under Staff Picks. 
---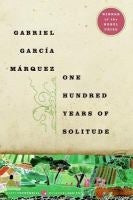 Reviewed by Dustin Vogel
Library Technician, San Diego Central Library
San Diego Union-Tribune, Dec. 10, 2017
On the surface, "One Hundred Years of Solitude" is the saga of the Buendía family in Macondo, a city dreamed of and founded by patriarch José Arcadio Buendía. García Márquez seamlessly blends the everyday life of Macondo's inhabitants with fantastical elements, creating a metaphorical story of the history of Colombia and Latin America. The themes of family, repetition of history and isolation are explored with a dizzying cast of seven generations of the Buendía family and the townsfolk that populate the city of mirrors. As the misfortunes of the Buendía family grow and compound, their story ends with the fulfillment of a family curse, long foretold by Buendía matriarch Úrsula Iguarán.
---
Library Assistant, Carmel Valley Branch Library
San Diego Union-Tribune, Nov. 12, 2017
This is an intriguing book about conversation coexisting in the technological world. Turkle cites an increase among adults and children in avoiding conversation due to technology usage. She discusses how conversation provides a dialogue that is different from using electronic communication. Her studies have shown that adults and children cannot disconnect from these devices in the presence of others for conversation to occur. The author found that when people are always constantly checking their phone or responding to messages this causes a disservice to society. Face-to-face conservation allows one to enjoy dialogue happening at that moment. The human connection of conversation should not be forgotten with technology usage; rather we should balance the two while enjoying the benefits of using each one. The author provides valuable insight in what we miss out when not taking time to enjoy conversation.
---
Library Clerk, Point Loma Library
San Diego Union-Tribune, Oct. 29, 2017
Equal parts heartbreaking and hilarious, the true story of comedian Patricia Williams' journey from growing up desperately poor in Atlanta to living a 'normal' life in Indiana is incredibly relatable. Ms. Pat uses often silly and flippant humor to describe her fractured childhood, in turn pulling the reader into a world where chaos and sadness may be laughed at. From living with her loving, bootlegger grandfather to her free-firing, pistol-wielding mother, Williams demonstrates humorous anecdotes to deflect her early childhood pain. The author also details the circumstances that thrust her adulthood while barely a teen, abusive relationships and doing whatever she has to do to survive and eventually leave Atlanta's worst parts in the '80s and '90s. A must-read memoir for fans of comedy and using humor to heal all wounds.
---
Library Clerk, Mission Hills Library
San Diego Union-Tribune, Oct. 15, 2017
"Love Hurts: Buddhist Advice for the Heartbroken" by Lodro Rinzler is a helpful read for anyone currently experiencing loss, heartache or simply interested in the human experience of living and loving. A Buddhist meditation on the reality of suffering, the author chronicles firsthand accounts of heartache both ordinary and extraordinary. He inspires us to remember that our hearts will be broken, maybe a million times or more in this lifetime. Yet, we can learn to accept heartbreak as a natural experience that occurs when we are truly engaged with life. The fearless are truly the most vulnerable. Can we open our hearts to and through the pain? Check Rinzler out for enlightening insights for the modern day experience.
Library Aide, University Heights Branch Library
San Diego Union-Tribune, October 1, 2017
This novel delves into a world in which a woman has grown up as a recluse due to her skin condition. Jubilee was diagnosed with being allergic to human skin cells at an early age and was on the brink of death after a high school dare. Following her mother's death, she's faced with breaking her boundaries and going out to find a job in order to keep her home. Through an old acquaintance, Jubilee lands a job at her local library, where she meets characters that will test her limits. She finds herself craving something she has never had: to be touched. Exploring the life of someone who is going through such a traumatic experience is eye opening. Through imagination, this book provides a perspective on allergies and other diseases that is revealing, as well on the hard work in research that can save someone's life.
---
Librarian, Sciences Section, Central Library
San Diego Union-Tribune, September 17, 2017
---
---
Librarian II, Central Library, San Diego Public Library
San Diego Union Tribune, February 5, 2017
Often biographies of dysfunction in families are viewed from the outside, from a retrospective view or as a survival story. You know what you are dealing with going in. In "KooKooLand", the full extent of dysfunction crossing into real danger unfolds as the author, Gloria Norris, matures. When she is five years old, Gloria's father is the center of the world – letting her be his sidekick for his questionable business dealings while always showing himself as the fastest, smartest, and strongest. She absorbs his lingo and his worldview. As time goes on, however, Gloria comes to the realization that what she knows as "normal" life is actually the opposite. A riveting description of a man that in the past might have been described as macho, charming, or powerful, but would be characterized quite differently today.
Librarian II, Kensington-Normal Heights Branch
San Diego Union Tribune, January 22, 2017
If you are like me, you like some poetry but are not exactly sure why. Should we just try to glean the meaning of words we don't recognize in a poem through context or look them up?  "Singing School: Learning to Write (and Read) Poetry by Studying with the Masters" by U.S. Poet Laureate Robert Pinsky is a readable classroom with bite-size pieces of information. The book is broken up into 4 section headings: 1. Freedom - poetry without rules. 2. Listening - is there music in the word structure? 3. Form - how is the poem arranged? 4. Dreaming Things Up – what is in this poem that you cannot explain and yet respond to. Pinsky brings a wide selection of poets to present.  Pick a poet and read in any order that suits your mood, while your path is guided by the Poet Laureate who wants the reader to relax and enjoy. 
Librarian II, Central Library, San Diego Public Library
San Diego Union Tribune, January 8, 2017
This remarkable book uniquely illustrates the Grimms' tales with sculptures created by an artist and illustrator who excels at visual storytelling. Photographs of Shaun Tan's artworks are paired on facing pages with extracts of Grimms' tales written by folklore expert Jack Zipes. Tan believes that "what matters above all else are the hard bones of the story" and each of his small sculptures capture the essence of a familiar tale. The three-dimensional figures bring new life to the stories with a stark simplicity of form and sparing use of color. Tan acknowledges his inspiration from Inuit stone carvings and Neil Gaiman's foreword notes the similarity: "They feel primal, as if they were made in a long-ago age of the world, when the stories were first being shaped." The book can be enjoyed on its own for the extraordinary artwork, but also for the enduring appeal of the stories themselves.