On View: Art and Culture Exhibitions
The Library's exhibition program allows free access to visual art and cultural exhibitions, while promoting San Diego artists and creative community groups.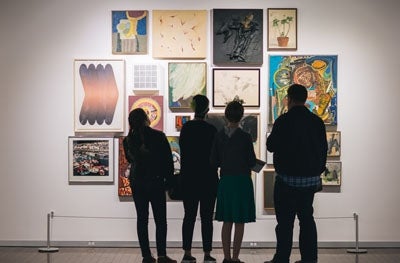 ---
Central Library Art Gallery
A Method for Reaching Extreme Altitudes
May 26 – Sept. 16, 2018 | San Diego Central Library Gallery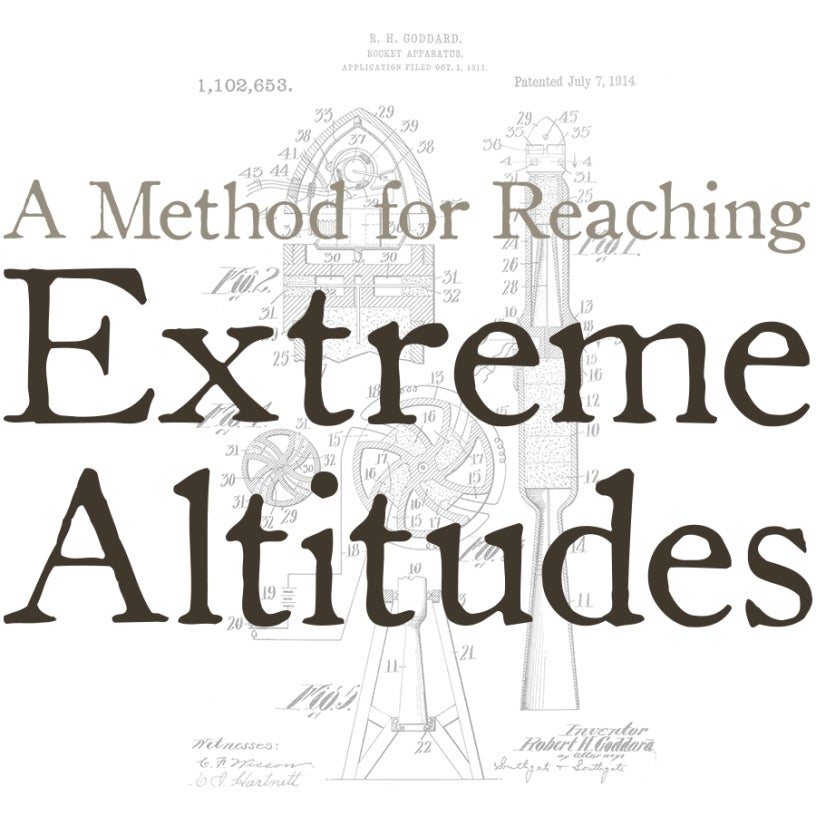 Featuring the work of eight San Diego artists exploring space art, ranging from scientific to science fiction and otherworldly curiosities. Artists Adam Belt, Matthew Bradley, Sheena Rae Dowling, Andrew McGranahan, Arzu Ozkal, Cheryl Sorg, Jones von Jonestein, and Melissa Walter traverse the outermost reaches of space through diverse mediums and concepts. Their creativity, paired with their search for knowledge, exemplifies the human desire to understand the world and universe we live in. Open to all, admission free.
---
Community Exhibitions
With 35 branch libraries in communities throughout the city, the San Diego Public Library has many great spaces to showcase educational, cultural, intellectual, charitable and recreational exhibits, as well as works by community art groups and individuals.
---
Central Library - Popular Library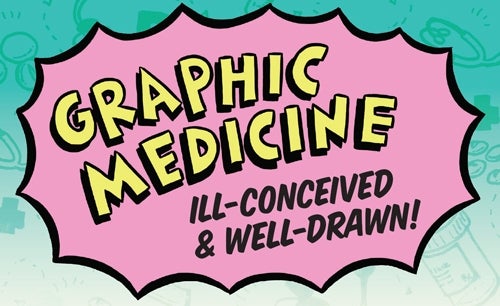 July 12 – Aug. 25, 2018
Comics and medical literature meet in a new literary field, using comics as the medium for telling stories of personal illness and health and in some cases, conveying clinical data. Learn more in this traveling exhibit from the National Library of Medicine.
---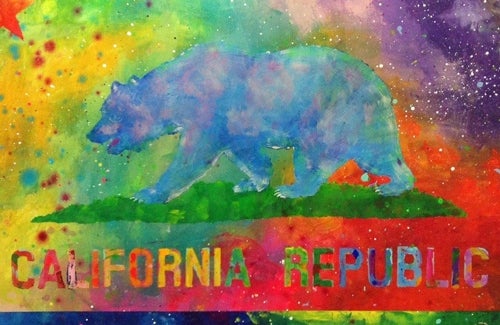 Credit: S. Bruce
---
North Park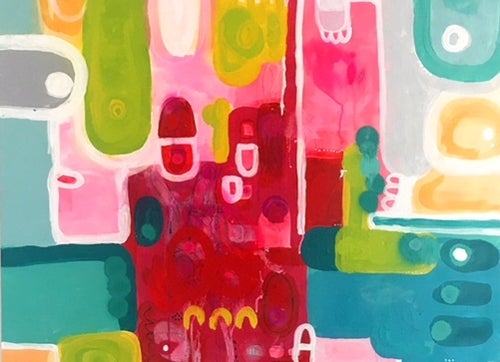 Credit: K. Curran
This Was Fun
Feb. 15 - April 20, 2018
Pure happiness in the form of bold, colorful abstracts on canvas, created by North Park resident Kim Curran.
---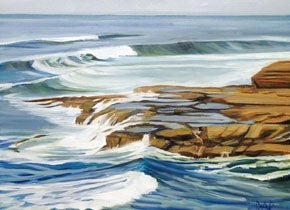 Credit: D. Peterson
Plein Air Painter's Meetup
June 3 – Sept. 1, 2018
Members of this organization meet in small groups to paint and sketch at specific locations in our region. Reception Saturday July 14, 12:30-3:00 p.m. includes a classical recital by pianist Jackie Oliver.
---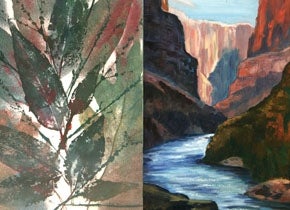 Credit: B. Rexford/S.A. Daffara
Color Expressions
June 30 – Sept. 30, 2018
Works by impressionists Betty Rexford and Sue Ann Daffara, featuring colorful landscapes and animal subjects.
---
Rancho Penasquitos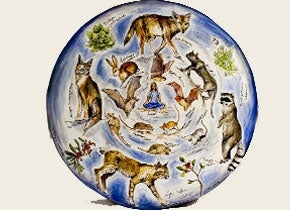 Credit: A. Carver
Along the Transect Line
March 7 - Aug. 31, 2018
Scientists use "transect lines" across a habitat to help them watch for change in plant and animal life.  This exhibit blends art and science to show what's seen Along the Transect Line at Cabrillo National Monument.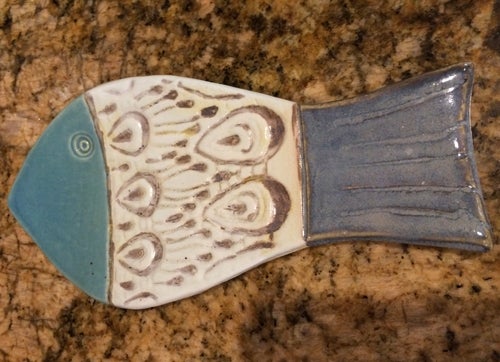 Credit: C. Fowler
Coming soon: Ceramic Nature
Aug. 1 – Sept. 28, 2018
Nature-themed ceramic pieces, created by Cathy Fowler.
---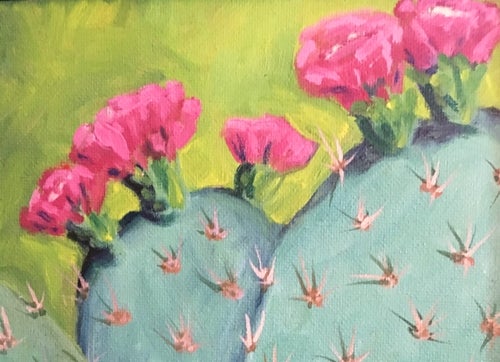 Credit: E. Parry
Ellen Parry
July 10 – Aug. 2, 2018
Oil paintings that celebrate the peace and beauty found in the rural farming and ranching regions of Northern Baja California. Reception Saturday, July 21, noon - 2 p.m.
---
Serra Mesa-Kearny Mesa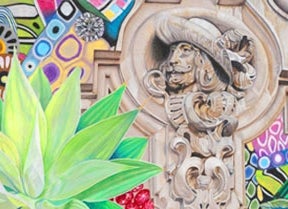 Credit: Colored Pencil Society
July 3 – Aug 28, 2018
This chapter of a national organization celebrates its 28th anniversary with a judged exhibition of fine art in colored pencil.
---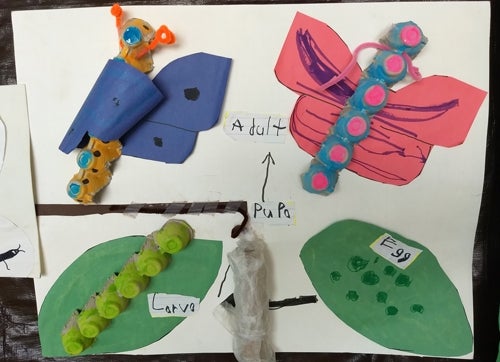 Credit: J. Grey
Soon
Excerpts from science journals created by kids, supported by the League of Extraordinary Scientists & Engineers.
---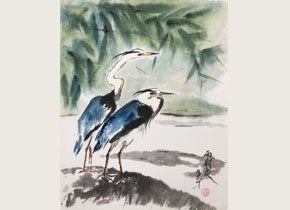 ---
Exhibition Opportunities
SDPL is pleased to have hosted exhibitions and displays by groups such as West Coast Drawing, San Diego Mesa College Museum Studies Program, the Museum of Photographic Arts' Education Department, the Pastel Society of San Diego, High Tech High, Veterans Art Project, San Diego Watercolor Society, the Art Glass Association of Southern California, Words Alive, and various individuals artists and craftsmen.
Exhibit Space is made available on equitable basis regardless of the beliefs or affiliations of individuals or groups requesting their use. The Library endeavors to present a broad spectrum of opinion and viewpoints. The Library does not accept responsibility for ensuring that all points of view are represented in any single exhibit.
To initiate use of Exhibit Space; Library staff must receive a completed online application from the party requesting the exhibit.
---
Frequently Asked Questions
How do you choose what to exhibit in the library?
All potential use of Exhibit Space shall be evaluated by criteria, which may include, but are not limited to:
Public Safety: The exhibit must not pose hazards or threats to public safety or public health and/or must not pose a potential liability for the City of San Diego in any other way.
Availability of Resources: The availability of Exhibit Space and necessary Library staff support. Preference will be given to exhibits that do not require an excessive outlay of City of San Diego resources.
Excellence: The level of exhibit quality and conceptual content.
Security: The nature of the proposed security measures for the exhibit.
Relationship to Exhibit Space: The scale and nature of the exhibit in connection with environmental, physical, and/or functional contexts, both existing and planned.
Content Considerations:  Exhibit content should be appropriate in material, form and content for the library environment.  In general, the Library does not accept exhibits of a purely commercial nature, unless they have a special educational, informational, or cultural value to the community. Materials advocating a particular vote on a candidate or ballot proposition may not be exhibited.
Associated Programming: Exhibitors are encouraged to participate in a lecture or demonstration during the show. Evaluation will consider willingness to prepare creative associated programming. Associated programming will be arranged in consultation with the Branch Manager.
Priority: Organizations and individuals based in San Diego or serving primarily San Diego residents, which have not used Exhibit Space within the past year, will be given priority.
How can I exhibit at the Central Library?
Programming for the gallery at Central Library is curated and we are not accepting unsolicited applications. There are limited opportunities to display in cases throughout the library, in the Teen Center, or in the Popular Library on the ground floor. Please contact us with a letter of interest to determine if these spaces are appropriate for your needs.
---
Photo Gallery
---
Contact Us