Refuse Disposal Fees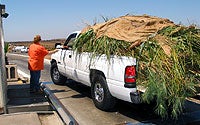 Refuse disposal fees charged at the Miramar Landfill are based on the type of vehicle hauling the waste, type of waste, the net weight of loads and whether the waste is generated within the City of San Diego. This information is used as a reference and is not intended to be the final determination for any load that requires special processing.
Cars, pickup trucks and small trailers are charged standard disposal fees that are assessed as "flat rates" depending on the type of waste disposed and where it was generated.
Additional fees will be charged for:
oversized, overweight or uncovered loads;
extra processing by City staff; and
returned checks
For more information, call 858-694-7000.

NEW Fiscal Year 2019 Fee Schedule and Regulations for the Miramar Landfill
Refuse Hauling
No hand unloads after 4 p.m.
All CRTs, TVs, appliances, universal waste, electronic waste, and household hazardous materials must be properly disposed of before entering landfill.
All loads must be covered. Fee for uncovered loads: $5 to $10.
During inclement weather, vehicle restrictions may occur.
Payment Information
Only cash and checks are accepted. No debit or credit cards.
Make checks payable to City Treasurer
A penalty of $29 will be imposed for all returned checks.
Please request a receipt of your transaction.
For efficient transactions, large volume/tonnage customers can apply for Deferred Payment Account Services
For any questions concerning your disposal fees, please see the on-site supervisor in the Miramar Landfill office prior to disposal of your load.
For additional information, call the Miramar Recycling Center at 858-268-8971.