Miramar Greenery
Products
Location
Located at the entrance of Miramar Landfill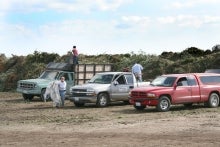 5180 Convoy St.
San Diego, CA 92111
Hours
Monday - Saturday: 7 a.m. - 4 p.m.
LANDFILL: Self-dumping vehicles accepted until 4:30 p.m.
GREENERY: City personnel tractor loading "only" until 4:30 p.m. (fees apply)
Contact Information
 Call 858-694-7000, Monday through Friday during business hours.
Inclement Weather
During rain events or other weather-related issues, the City reserves the right to temporarily close the landfill and greenery operations to vehicles with trailers for safety reasons. Event conditions at the tipping deck are not conducive to the maneuvering of vehicles with trailers. It becomes a safety issue to the public and employees and a hindrance to operations when dealing with incapacitated vehicles.
Frequently Asked Questions
What is the City's Curbside Greenery Recycling Program?
What Green Waste Can You Recycle in Your Curbside Greenery Collection Program?
Do You Have Curbside Greenery Recycling in Your Neighborhood?
Businesses and residents without curbside greenery recycling can still help the environment by bringing recyclable green waste to the Miramar Greenery.
Publications/Video