How to Recycle C&D Debris on Site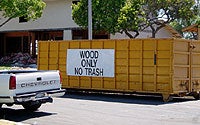 Start source separating at the job site. Clean loads are taken to specific recyclers, saving money on tipping fees at the Miramar Landfill! It is easy to do, just assign separate bins for different materials. Make sure to mark them with clear signage.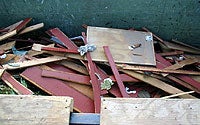 Educate and involve contractors and subcontractors in regards to your waste management plan.
Include proper language in contract requiring compliance with the recycling plan.
Determine recycling, salvage, reuse and disposal options before the job begins.
Consider deconstruction and salvage instead of mechanical demolition.
Evaluate space availability for different recycling strategies: on-site, source separation and/or mixed C&D recycling
Implement maximum recycling at the job site - Reuse!
Donate materials that can be reused to charities and nonprofit agencies.
Place advertisements in local newspapers or websites announcing salvageable and reusable materials for sale or donation.
Choose haulers based on their responsiveness to your recycling plan.
Choose Certified Recycling Facilities based on its fees and geographic proximity to your job site.
Clearly identify recycling areas with large signs.
Place recycling bins in areas that will minimize misuse or contamination by employees and the public.