Used Oil and Oil Filter Recycling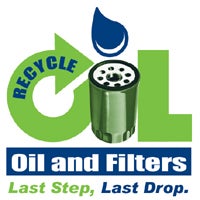 City of San Diego residents are encouraged to bring their used or leftover oil and oil filters for disposal and recycling to our 

Used Oil and Oil Filter Recycling Events conducted around the City.
Only used motor oil, oil filters, contaminated oil, antifreeze and auto batteries are accepted.
The service is free to City of San Diego residents.
Maximum transportation limit: 10 gallons.
These events are geared to "home mechanics" only. No commercial or business waste. Some local retailers (AutoZone, Firestone, and O'Reilly) also accept used oil and oil filters.
For information on private businesses that accept used oil, oil filters or vehicle batteries throughout the year or for information on other antifreeze recycling options, call the Environmental Services Department at 858-694-7000.