North City Pure Water Pipeline, Dechlorination Facility and Subaqueous Pipeline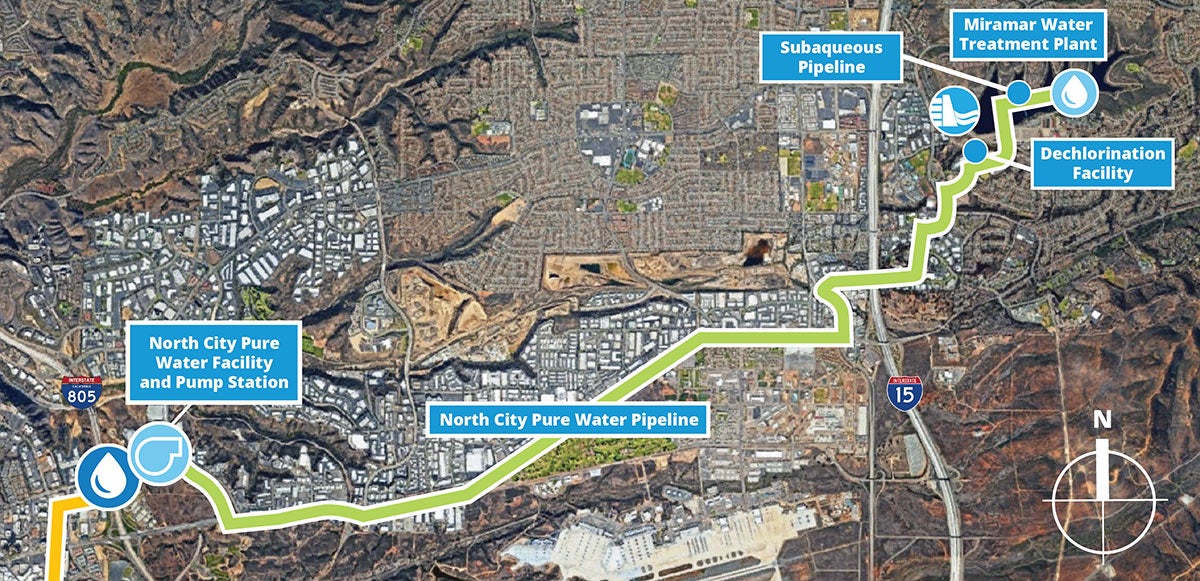 The North City Pure Water Pipeline will convey 30 million gallons per day (mgd) of highly-purified water eight miles to be stored in Miramar Reservoir. Tunneling will occur under Interstate 15. The purified water will be chlorinated after treatment for disinfection and protection of the pipelines. 
The Dechlorination Facility will intercept water being conveyed by the Pure Water Pipelines prior to being added to Miramar Reservoir. This facility will remove the disinfectant before the water is added to the reservoir to protect the habitats for the plants and animals that live in the reservoir as well as the people that use it recreationally each day.
The Subaqueous Pipeline is a one-mile, branched pipeline that will be constructed on barges on the surface of Miramar Reservoir before being sunk and permanently installed on the floor of the lakebed. 
Due to the recreational nature of the Miramar Reservoir, an informational kiosk will be located near the southwestern rim of the reservoir trail with information regarding any boat ramp closures, expected construction activity schedule, and informational updates about the project. While some parking spaces may be used as construction staging areas, recreational access to the reservoir will be maintained throughout construction.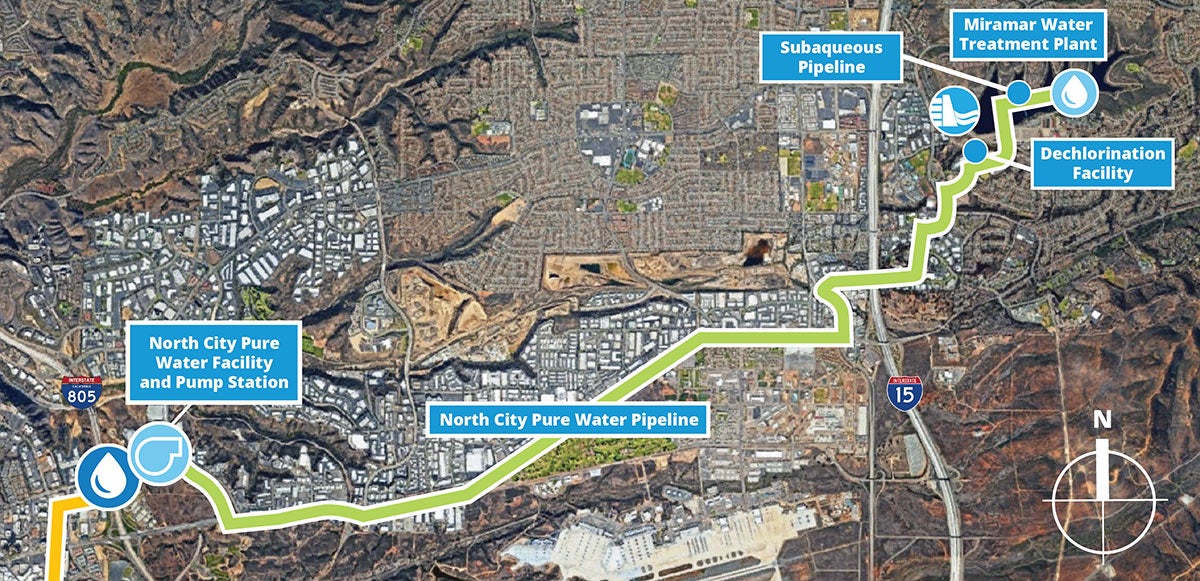 Construction Schedule
Project Started: June 2021
Anticipated Completion: 2025
Nighttime construction from 7 p.m. to 5 a.m. from Monday to Thursday is expected along the pipeline alignment to minimize traffic to businesses, commuters, and Marine Corps Air Station Miramar activities. There will be daytime construction from 7 a.m. to 4:30 p.m. from Monday to Friday at Miramar Reservoir.
Informational Materials
Background Information
Construction Notices
Nov. 30, 2023 - NOTICE: Pure Water San Diego Subaqueous Pipeline Construction Ongoing at Miramar Reservoir
Aug. 29, 2023 - NOTICE: City of San Diego's Pure Water Subaqueous Pipeline Construction Scheduled to Begin at Miramar Reservoir
Apr. 14, 2023 - NOTICE: Subaqueous Pipeline Construction Equipment Staging Planned at Miramar Reservoir
Mar. 14, 2023 - NOTICE: North City Pure Water Pipeline Construction Scheduled on Miramar Road between Carroll Canyon Road to Distribution Avenue
Feb. 2, 2023 - NOTICE: North City Pure Water Pipeline Construction Scheduled on Miramar Road between Clayton Drive/Mitscher Way and Camino Ruiz
Oct. 24, 2022 - NOTICE: Construction Scheduled to Begin on City of San Diego North City Pure Water Pipeline on Miramar Road
Oct. 7, 2022 - NOTICE: Nighttime Road Closure on Scripps Ranch Boulevard between Carroll Canyon Road and Hoyt Park Drive
Aug. 4, 2022 - NOTICE: Pipeline Construction Scheduled to Begin on City of San Diego North City Pure Water Pipeline on Carroll Canyon Road
June 16, 2022 - NOTICE: Pipeline Construction Scheduled to Begin on City of San Diego North City Pure Water Pipeline on Meanley Drive
April 11, 2022 - NOTICE: Pipeline Construction Expected to Begin on City of San Diego North City Pure Water Pipeline
Community Presentations