Pure Water San Diego

Pure Water San Diego is the City's phased, multi-year program that will provide one-third of San Diego's water supply locally by 2035. The Pure Water Program will use proven water purification technology to clean recycled water to produce safe, high-quality drinking water. The program offers a cost-effective investment for San Diego's water needs and will provide a reliable, sustainable water supply.
An initial 30-million-gallon-per-day Pure Water Facility is scheduled to be operational by 2021. The long-term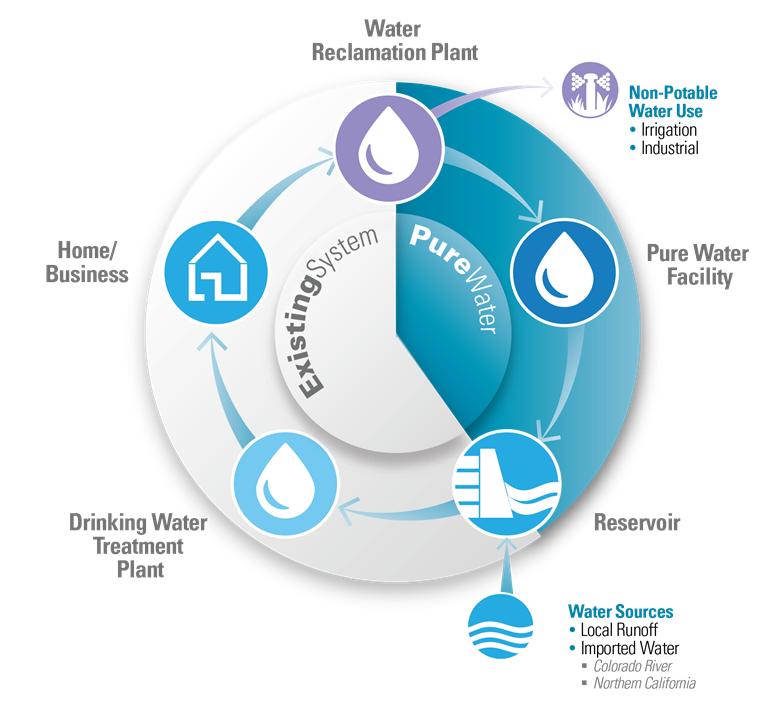 goal, producing 83 million gallons of purified water per day (one-third of San Diego's future drinking water supply), will be reached in 2035.
Pure Water San Diego Program components include:
The design and construction of full-scale Pure Water Facilities;
Continued operation of the demonstration Pure Water Facility;
Research on potential additional treatment barriers;
Regulation and legislation development; and
An education and outreach program.
The program is environmentally friendly and will help make San Diego more water independent and more resilient against drought, climate change and natural disasters.
More Information

Pure Water San Diego Fact Sheet

Pure Water San Diego Fact Sheet (Spanish)

Pure Water San Diego Fact Sheet (Vietnamese)

Pure Water San Diego FAQs

Pure Water San Diego Speakers Bureau Presentation

Pure Water San Diego Program Brochure

Pure Water San Diego Tour Brochure
Additional information about Pure Water San Diego is available on this website. For further inquiries about the program, please call (619) 533-7572 or email
[email protected]