Commercial
How to Set Up a Business Recycling Program
Implementing a recycling program at your business is easy! Just follow

these steps: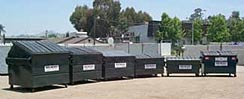 Establish your recycling potential
Find out how much trash is being collected at your business. How many dumpsters of what size do you have? How often do they get collected?
Identify materials that are generated on-site and determine which materials must be recycled (The City of San Diego has a mandatory Recycling Ordinance https://www.sandiego.gov/environmental-services/recycling/ro).
Estimate the waste disposal cost savings when your business starts to recycle.
Evaluate building/office space options for recycling containers.
Develop an environmental policy for your business that gives employees a clear direction of your company's environmental commitment.
For free technical assistance, please call the Environmental Services Department at 858-694-7000.
       2. Design a user-friendly recycling program. Use this guide to find a

local recycler.
Choose a waste hauler based on their responsiveness. Start with the business' current hauler or if your contract is expiring and/or your current hauler can't provide you with recycling services, consider or a different franchise hauler.
Select recycling bins and place them in areas that will minimize misuse or contamination. Always place recycling containers as close as possible to trash containers.
Employees can empty desk-side bins into larger bins in common areas. Or your custodial service can empty desk-side bins.
Clearly identify recycling areas with large signs that include pictures of what can and can't be recycled.
Place information on company's bulletin boards and in newsletters. Make sure each area of the office/building has a list of acceptable recyclable materials and descriptions of recycling bin locations.
Coordinate with other nearby businesses. The more recyclables you have, the lower your collection costs will be.
Develop a collection plan. Who will move recyclables from the building to the dumpster? How many recycling dumpsters will you need? Can you replace some of your trash dumpsters with recycling dumpsters?
      3. Educate staff and promote the program
Evaluate the program often. Check for contamination to determine if more education is needed.
Provide updates on the program in company newsletters and bulletin boards, so employees will know that their efforts are making a difference.
Submit a press release about your program to local media.
Apply for recognition for your company's recycling efforts through the Environmental Services Department's Annual Business Recycling Award.
Remember, the more materials you recycle, the lower your trash collection costs.