Water Conservation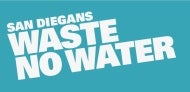 Efficient water use is a way of life in San Diego, and it is important to remember that permanent water use restrictions remain in effect regardless of the drought status.  In addition to efficient water use practices, the City has a number of resources available to help residents and businesses reduce water consumption.
Need to Report Water Waste?
Do you notice water being wasted, such as irrigation water running down the street, broken or misdirected sprinklers watering pavement or watering in the middle of the day? You can report waste though the Get It Done App or the Waste No Water app and websites. You can download both apps onto your mobile devices. 
If over irrigation reaches the storm drain (gutter, street or storm drain inlet) the Storm Water Enforcement Team will respond. Learn more at the Storm Water website. All other Water Waste concerns will be addressed by the Water Waste team.
Rainwater Harvesting Rebates (Rain Barrels and Downspouts)
FY 19 applications for Rainwater Harvesting Rebates are now open.
Rain barrels and downspouts are used to capture rainwater from hard surfaces such as rooftops. These barrels are a quick way to conserve - then use - water for irrigation purposes, as well as to help prevent pollution by reducing the amount of runoff entering our storm drain system.
Landscape Transformation Program
City of San Diego Water Customers can now apply for funds to convert their water thirsty lawn to a water-wise sustainable landscape. The City is offering a $1.25 per sq/ft of landscape converted. Additional funding may be available from the Metropolitan Water District and the San Diego County Water Authority. For more information, including how to submit your application and reserve funds, visit www.socalwatersmart.com.
Weather-Based Irrigation Controller (WBIC) Systems
Save Water, Save Money. More than half of residential water is applied to home landscapes, however, many landscapes are overwatered due to sprinkler controllers that are not programmed properly. WBIC systems use smart technology to optimize the use of water needed for irrigation.
"Conserving water is a way of life in San Diego, regardless of drought status. The weather-based irrigation controller systems that are part of this pilot program could save one million gallons of water annually. A WBIC will save water and reduce the homeowner's water bills, all in an effortless manner," stated Councilmember Chris Cate.
Being weather-based and synchronized with an on-site weather sensor, a WBIC will know when to skip a watering if rain is in the forecast.
To learn more about this program click here.
Pressure Reducing Valve (PRV) Rebates
City of San Diego residential water customers served by an individual water meter may be eligible to receive a rebate up to $2,000 per property. The rebate covers the cost of a new indoor PRV and is intended for properties that currently have a static pressure equal or greater than 80 psi (pounds per square inch) and cannot be adjusted downward. For more information, please see the

PRV Rebate Flyer, 

Program Guidelines and

FAQ.
Graywater System Rebates
The Graywater Systems Rebate Program is open and awaiting your applications. To learn more about the program please read the

Graywater Systems fact sheet. There you will find recommendations, program parameters and requirements, and information about the rebate process. Once you're ready, you can apply for the Graywater Systems Rebate Program

here.
Residential and Commercial Water Surveys At No Cost
Leaks and over-irrigation can cause significant waste. The City of San Diego offers water conservation services, including its Residential Water Survey, Multi-Family Survey, Commercial Survey and Water-Wise Business Survey programs. These free programs are available to property owners and tenants located within the City of San Diego Public Utilities Department's service area. Visit the Water Surveys Programs page for more details. For a survey appointment and more information, call (619) 570-1999, or email [email protected].
Free California-Friendly Landscape Classes
A more attractive and water-efficient yard sounds enticing, doesn't it? Need more inspiration? Then sign up for a FREE California-Friendly Landscape Class!
The San Diego Public Utilities Department is partnering with the San Diego County Water Authority and the Metropolitan Water District of Southern California to offer free training classes on WaterSmart landscaping. The class introduces a holistic approach to landscape design and maintenance that emphasizes water-use efficiency. This class does not discuss specific plants, but provides a solid foundation regarding landscape planning before selecting plants.
The three-hour seminars are fast-paced and informative. They offer solutions to common landscape problems. Participants will learn to think about landscapes from the soil up. In addition, they will learn how to design landscapes that are sustainable in the San Diego climate. Class topics will include how to make the best use of the region's limited rainfall, irrigate efficiently and choose the best plants for each yard.For information about all of the free WaterSmart landscaping classes in the County of San Diego, please visit: Water Smart California Friendly Landscape Training Class.
Landscape watering calculator
The City of San Diego Landscape Watering Calculator is an easy-to-use tool that helps you estimate the right amount of water to give your landscape or garden.
Updates
Under current U.S. tax code, water conservation rebates are not tax-exempt. A social security number or a taxpayer identification number (TIN) must be provided via a completed

Form W-9 along with the rebate application paperwork

in order to receive a rebate. Form W-9 is used to officially ask a person or business to provide their name, address and taxpayer identification number so the requesting party can properly issue tax documents to the Internal Revenue Service.
Please consult with a tax advisor if you have questions regarding any potential tax implications of your rebate.
---
Contact Us
Report water waste by calling 619-533-5271 or sending an email to [email protected].
General Water Conservation Information: 619-533-7485
For other questions or concerns call 619-515-3516 or email [email protected].
Visit http://socalwatersmart.com/?page_id=2954 for rebate opportunities through SoCal Water$mart.