Recycling Centers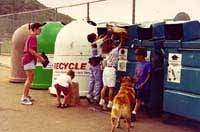 With so many recycling centers throughout San Diego, City residents who are not able to participate in the curbside recycling program are still able to recycle by choosing from a selection of recycling opportunities.
The links below provide information on recycling programs at the Miramar Recycling Center and privately-owned recycling centers.
Visit WasteFreeSD, a free online recycling directory, to search for where and how you can recycle other items.
If you have questions, see the Frequently Asked Questions, contact Environmental Services at 858-694-7000 or email sdrecyclingworks@sandiego.gov