Free Balboa Park Tours / Programs / Concerts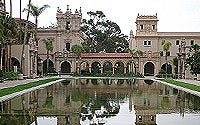 Architectural Heritage Tours
The Committee of 100 offers one-hour tours on the first Wednesday of each month at 9:30 a.m. Tours meet in front of the Visitor Information Center in the Park's Plaza de Panama. The Committee of 100 is a nonprofit charitable organization dedicated to preserving Spanish Colonial architecture in the Park. The Committee raises funds for the preservation and restoration of the Park's historic buildings. For more information, call (619) 239-0512.
Balboa Birders Guided Walks
The Balboa Birders are volunteers who lead monthly birding tours in parks, marshes, and canyons in and around Balboa Park and neighboring communities. Birders meet the first Thursday of every month from 7:30 to 9:30 a.m. Locations vary. For more information, call (619) 232-3821, Ext. 7.
Canyoneers Guided Nature Walks
The Natural History Museum's Canyoneers-volunteer naturalists trained in local flora, fauna, and geology-lead weekend nature walks from September through July in San Diego County's mountain, canyon, lagoon and desert habitats. Walks range from one and one-half hours to six hours and are generally of moderate distance (1 to 6 miles) and difficulty. For more information, call (619) 232-3821, Ext. 7.
House of Pacific Relations Lawn Programs
The House of Pacific Relations is comprised of more than 30 national groups dedicated to promoting an exchange of values and understanding among people of diverse national origin. This group of small cottages, each home to a different nation, takes turns holding lawn programs, from the first Sunday in March to the last Sunday in October, which feature traditional costumes, arts, crafts and ethnic foods. Outdoor programs of folk dancing and music are presented at 2 p.m. For more information, call (619) 234-0739.
Offshoot Tours
Offered every Saturday by volunteer horticulturists, the tours meet in front of the Park's Visitor Information Center at 10 a.m. for a one-hour walk. Tour themes include Balboa Park history (first Saturdays of the month), palm trees (second Saturdays), other trees in the Park (third Saturdays), desert vegetation (fourth Saturdays), and every fifth Saturdays offers the "tour del dia" (exploring the Park Palisades area). Inclement weather or attendance of fewer than four people cancels tour. Offshoot Tours run from the second Saturday in January through the Saturday before Thanksgiving. Sponsored by the Balboa Park Rangers. For more information, call (619) 235-1122.
Ranger-led Tours
Approximately one hour long, these tours meet at 11 a.m. every Tuesday and Sunday at the Visitor Information Center in the Park's House of Hospitality. Park Rangers discuss the historical and botanical treasures of Balboa Park. The Park Rangers are committed to helping visitors have a wholesome, safe, and rewarding outdoor experience. In addition to tours, rangers assist with public safety, raise awareness of conservation needs and methods, and carry out a proactive series of educational activities within the Park and throughout the community. For large tour groups or special arrangements, call the Park Rangers' office at (619) 235-1122.
Spreckels Organ Pavilion Concerts
The Spreckels Organ Pavilion, housing the world's largest outdoor pipe organ, was donated to the City of San Diego by brothers John D. and Adolph Spreckels in 1914 for the Panama-California Exposition. The pavilion area provides comfortable seating for 2,400 and with wheelchair access. Free year-round organ concerts, featuring San Diego Civic Organist Dr. Carol Williams, are held on Sundays from 2 to 3 p.m. Guest performers are scheduled at least once a month. Each year a free summer International Organ Festival is presented from mid-June through August on Monday evenings at 7:30 p.m. For more information, call (619) 702-8138.