Tecolote Canyon Natural Park and Nature Center
An Excellent Resource in Your Own Backyard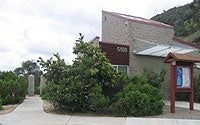 Centuries ago, the Kumeyaay Indians found food and shelter in Tecolote Canyon, a place that today is rich with history. It has been designated as a cartographic feature on area maps for nearly two centuries and was given the name tecolote, or owl, for the diminutive raptor that lives in this canyon.
One of the first settlers was Judge Hyde who built a home and began farming in Tecolote Canyon in 1872. Farming and ranching continued until World War II; and as late as 1953, cattle were still grazing the canyon. Startled residents sometimes found mounted cowboys herding strays out of the backyards of their rim-side homes.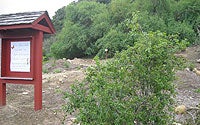 The City of San Diego acquired this land and it was dedicated on April 1, 1978. The new park was officially named Tecolote Canyon Natural Park and the first members of the Tecolote Canyon Citizens' Advisory Committee were sworn in. With the help of City Park Rangers, dedicated community members help preserve and protect the canyon's natural state.
Today, Tecolote Canyon Natural Park & Nature Center offers its visitors a variety of educational and recreational opportunities. The Canyon has approximately 6.5 miles of trails that can be used for jogging walking and mountain biking. Also available to visitors is the Tecolote Nature Center which offers a host of exhibits on the animal and plant life of the Canyon. The Nature Center is also available for meetings, workshops, classes and special events. Please contact the Center Director at 858-581-9959 for more information.
To report suspected illegal activity including transient encampments, encroachment onto City property, or other maintenance needs, please call 858-581-9961. In an emergency, please call 911.