Open Space Canyons and Parklands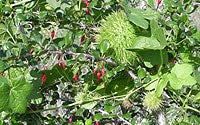 Wild Cucumber twining through
Fuchsia-flowered Gooseberry
Click photo to enlarge (PDF)
Photo: Susan L. Pelley
Open Space Division Canyon Program
202 C St., MS 5D
San Diego CA 92101
(619) 235-5262 (Park Ranger Office)
Canyon Program
Open Space canyons are located throughout the City of San Diego and you may find one just beyond your own backyard. San Diego's canyons contain natural and cultural history unique to our region. For many communities these canyons are all that remain as undeveloped natural landscape. Canyons provide the citizens of San Diego with such benefits as scenic vistas, preservation of natural resources, outdoor recreation, and other benefits to health and well being.
The City of San Diego Park & Recreation Department's Open Space Division manages over 24,000 acres of open space, including open space canyons and parklands. Some 3,200 acres are citywide neighborhood canyons and parklands which are overseen by the Open Space Canyon Program staff.
The Open Space Division Canyon Program supports various "Friends of Canyons" groups by assisting with environmental education, canyon enhancement planning, weed management, trail maintenance, and kiosk installation. Park Rangers provide enforcement of City of San Diego municipal codes for park rules and regulations such as dog off leash and transient camp abatement.
To report suspected illegal activity including transient encampments, encroachment onto City property, or other maintenance needs, please call (619) 235-5262. In an emergency please call 9-1-1.