Your Dogs and City Parks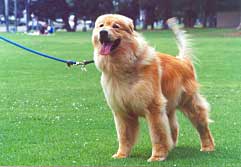 All dogs shall be maintained on a leash not to exceed 8 feet, including trails and canyons in all parks. For those parks that have been designated dog off-leash areas, dogs must be leashed until inside the posted boundary for the off-leash area.
Dogs benefit by being protected from rattlesnakes, ticks, traffic and various other hazards and distractions. Also, poison oak is spread from dogs to humans.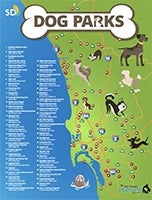 Click map to view larger image
We understand that people love their dogs and want a place for them to run free, play fetch and socialize with other dogs. The City of San Diego has designated off-leash dog areas for just this reason. It is necessary to keep your pets within the boundaries of the posted "Designated Dog Off-Leash" areas. The perimeters may be unsafe for your dog (such as traffic, sharp objects that can injure them, etc.).
Please adhere to the posted park rules and also:
always pick up after your pet;
do not bring a puppy to the dog park until all required vaccinations are complete;
be sure that your dog's required vaccinations are up to date for the health of all dogs on site; and
be sure that your dog is wearing a current license from the San Diego Humane Society.
If you would like to establish a leash-free dog park in your area, or add amenities to the existing dog park in your area, please contact us at Ask Parks. A public process may be implemented that will include input and evaluation from dog owners and community members.