The Boulevard Marketplace – MCTIP (Mid-City Transit Interchanges Project)
This project is located in Mid City within the Normal Heights Plan Area (Phase 1) and Kensington-Talmadge Plan Area (Phase 2) and along El Cajon Boulevard, generally south of Meade between 38th Street and 40th Street. Some of the highlights of this project include: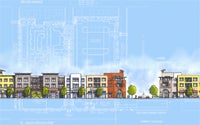 The Boulevard Marketplace
Pilot Village Program.
It is located along the Transit First Demonstration Project and is part of the implementation of the Mid City Transit Interchanges Project, a new approach to addressing the extension of Interstate 15 and community revitalization.
It provides a range of housing types varying from row homes adjacent to the existing single family homes to three- and four-story apartment units in the center of the project site, and loft-over-retail uses along busy El Cajon Boulevard.
It includes 366 units, with 20 percent of those affordable housing.
The site planning and design reflect thoughtful consideration and respect for the older neighborhood fabric.

Site Description

Site plans, select concept drawings, and elevations
More Information