Mi Pueblo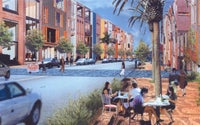 The future look of San Ysidro.
Located in the San Ysidro community, the proposed project is in the heart of the community along the historic commercial core of San Ysidro Boulevard, stretching from Interstate 805 to Cottonwood, and into the residential neighborhood immediately adjacent. It is linked through Pathways to Knowledge, a system of pedestrian connections throughout the community and to the Las Americas Plaza next to the international border. Some of the highlights of this project include:
It proposes to revitalize an aging, underutilized commercial district while providing an enhanced and pedestrian friendly connection between historic San Ysidro, the new community, regional shopping plaza, mixed use project and a future branch library in the San Ysidro community.
It will include 1,143 residential dwelling units, almost 25 percent of which will be affordable housing.
It includes a public market (Mercado), social services (Casa Familiar offices), commercial office, public plazas, community gardens, senior housing and a linear park, along with a proposed 20,000-square-foot branch library and a 5,000-square-foot community center.
The design theme builds upon the Latino New Urbanism, an urban design philosophy that incorporates many different types of uses, higher density and an accommodation of unit types and site planning for extended family living arrangements.

Site Description

Site plans, select concept drawings, and elevations
More Information