North Park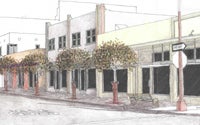 The North Park program has several big projects.
The project is served by four bus routes, including Route 7 which is the most heavily used bus route in the city.
It includes 483 existing and proposed residential units with neighborhood commercial retail, art and artisan galleries.
It includes a streetscape improvement project.
It has a number of catalyst projects including North Park Theatre, Walgreens, and the Western Pacific condominium project.

Site Description

Site plans, select concept drawings, and elevations
More Information