Pilot Village Center at Euclid and Market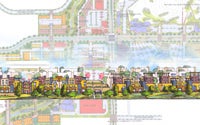 Connection four neighborhoods, Euclid and Market
sits in the middle of the intersection
This project is located at the intersection of four neighborhoods in the southeastern area of San Diego: Chollas View, Lincoln Park, Emerald Hills and Valencia Park. It builds on the existing Market Creek Plaza development. Some of the highlights include:
The village site design resembles a "hill town," taking advantage of the topography with terraced residential units allowing for views of Chollas Creek and beyond. The site design responds and respects Chollas Creek as an urban waterway and a linear park for the adjacent residents and the community.
The application proposes to exceed the 20% affordable housing goal of the Pilot Village program on-site and to develop as many residential units as possible with open floor plans, doorways, materials, and fixtures in accordance with the tenets of Universal Design.
In addition to residential development, land uses include job training, youth-centered employment, neighborhood retail and office, an amphitheatre on the creek, and recreational facilities. The area is also served by the Tubman Chavez Community Center, the Malcolm X Library, the Elementary Institute of Science and Horton Elementary School.
The village site is well served by transit. The Euclid trolley station is on the site. It provides access to several bus routes. It is also walkable, with a network of trails, as well as pedestrian and bicycle paths.

Site Description

Site plans, select concept drawings, and elevations
More Information