Pilot Village Program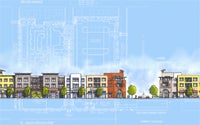 MCTIP will include 366 living units,
20 percent being affordable housing.
By a unanimous vote on Feb. 10, 2004, the City Council approved five innovative projects to become Pilot Village demonstration projects for the City of Villages strategy of smart growth in San Diego. The projects that were selected are dispersed throughout the City and represent a variety of approaches and styles that will demonstrate how Villages can revitalize existing neighborhoods while retaining their individual character.
The projects now move to the implementation and building phase. Completion time will vary depending on the project. The goal is to complete construction within three to five years, with the exception of North Park, which is expected to be completed in five to 10 years.
More Information