IDEA Lab
Located on the Eighth Floor of Central Library
Regular Hours

Teens (ages 12 to 21)
 
      Monday
3:30 p.m. - 6:30 p.m.
      Tuesday
3:30 p.m. - 6:30 p.m.
      Wednesday
3:30 p.m. - 6:30 p.m.
All Ages
 
      Thursday
3:30 p.m. - 6:30 p.m.
      Friday
3:30 p.m. - 5:30 p.m.
---
Poster Competition
Your Library Through Your Design: Poster Contest
Design a limited edition promotional poster for the San Diego Central Library! Designs will be based on any of the following sections of the library: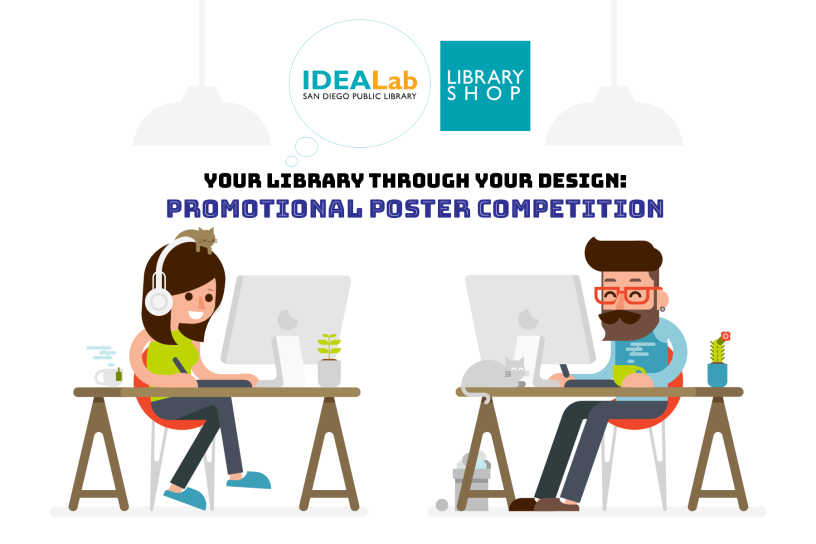 IDEA Lab

Pauline Foster Teen Center

Denny Sanford Children's Library

Art, Music & Recreation

I CAN! Center

Science & Social Science 

Humanities 

Special Collections | Rare Books Room
Submission Period:
 June 15 - August 25, 2017
Open to ages 12 and up.
Registration is required.
Winners will be announced: September 1, 2017
Winners from the 3 categories, will have their limited edition posters sold in The Library Shop, in addition, to receiving an incentive.
Programs & Workshops for Poster Competition
Poster Design Tips and Tricks with Graphic Designer, Alessa Sotelo 
Tuesday, August 8, 2017 from 3:30-5 p.m. in the IDEA Lab
Presentation:
Local design professional reveals how to turn your creativity and design skills into a career. Uncover the possibilities the design field has to offer.
Poster Design Tips and Tricks:
Learn how Adobe Illustrator and Photoshop can be used to their greatest potential. See your ideas come to life through both vector illustrations and raster effects while reviewing the best practices for print design.
Ages 12 and up.
Open Studio Hours for Contest Participants 
Wednesdays ( June 21st, July 12th, July 26th, and August 16th )
Noon - 3 p.m. in the IDEA Lab
Are you a participant of 'Your Library Through Your Design: Poster Contest'? Don't fear, help is near! Drop by the IDEA Lab on the 8th floor, for open studio hours to work on your poster project. A staff member will be available to help answer your questions and assist with design development. Open studio hours are only available to poster contest participants. You must be on the registration list.
---
About the IDEA Lab
The IDEA Lab at San Diego Public Library is a multimedia lab designed to prepare teens for 21st century job skills by exposing them to new technology.
The IDEA Lab tech team interns from the E3 Civic High School partnered with MACSD instructor Jesse Keller to produce a short video highlighting the IDEA Lab and all it has to offer.

IDEA Lab Brochure
---
Available Software Programs
Adobe (Illustrator, InDesign, Lightroom, Photoshop, Premiere Pro)
Autodesk (AutoCAD & Maya)
Blender
Final Cut Pro X
Logic Pro X
SketchUp
Bamboo Wacom tablets
---
Using the IDEA Lab
Policies and Procedures
Sign in with a staff member working in the IDEA Lab before using a computer. Fill out a questionnaire about what you would like to work on.
IDEA Lab computers are intended to be used for projects that require the IDEA Lab's specialized software. Computers for email, job searching, and other Internet browsing are available on floors 2-9.
Adults over age 21 who are registered IDEA Lab users may only use the IDEA Lab when using the equipment.
Parents or guardians of minors who are registered users may accompany their children while in the IDEA Lab.
All children under the age of 8 must be accompanied by an adult.
You may use a computer as long as you like if no one is waiting. If patrons are waiting, you may use the computer for 2 hours.
Headphones and digital tablets may be signed out for 2 hours (more if no patrons are waiting) but must not leave the IDEA Lab. All equipment must be signed out with a staff member.
You may print up to 1 page per day in the IDEA Lab.
Food and drink are not to be consumed in the IDEA Lab
Cell phone conversations must be taken outside of the library.
Save your work to your own media or cloud storage
If your work is of an offensive or disturbing nature, the Library staff reserves the right to ask you to discontinue working on your project in the IDEA Lab.
Contact: [email protected]