Water Conservation

Mandatory Water Use Restrictions Remain
These restrictions remain in effect at this time and the City is asking residents to be sure to abide by these important rules, designed to reduce water consumption during drought conditions.
Read all water use restrictions currently in place.
Grass Replacement and Micro-Irrigation Rebates
Update: Funding for the City of San Diego's Grass Replacement and Micro-Irrigation rebate programs has been exhausted, and applications are no longer being accepted. We thank all of you who are participating in the rebates and for making the choice to go water-wise.
Rain Barrel Rebates
Rebates for rain barrels are still available through the City of San Diego.
Rain barrels are used to capture rainwater from hard surfaces such as rooftops. These barrels are a quick way to conserve - then use - water for irrigation purposes, as well as to help prevent pollution by reducing the amount of runoff entering our storm drain system.
Graywater System Rebates
The NEW Graywater Systems Rebate Program is open and awaiting your applications! To learn more about the program please read the Graywater Systems fact sheet found below in the Water Conservation Library. There you will find recommendations, program parameters and requirements, and information about the rebate process. Once you're ready, you can apply for the Graywater Systems Rebate Program

here.
Water Conservation Library
Residential and Commercial Water Surveys Available At No Cost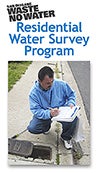 Leaks and over-irrigation can cause significant waste. The City of San Diego offers Water Conservation services, including its Residential Water Survey, Multi-Family Survey, Commercial Survey and Water-Wise Business Survey programs. These free programs are available to property owners and tenants located within the City of San Diego Public Utilities Department's service area.
Visit the Water Surveys Programs page for more details
For a survey appointment and more information, call (619) 570-1999, or email [email protected].
Sustainable Landscape Classes
The City of San Diego has joined with regional partners to provide a variety of landscape classes to inspire and guide every type of gardener from green thumb to novice. 
Check out upcoming class times and locations at the link Water Smart Sustainable Landscape Classes
Free California-Friendly Landscape Classes
A more attractive and water-efficient yard sounds enticing, doesn't it? Need more inspiration? Then sign up for a FREE California-Friendly Landscape Class!
The San Diego Public Utilities Department is partnering with the San Diego County Water Authority and the Metropolitan Water District of Southern California to offer free training classes on WaterSmart landscaping. The class introduces a holistic approach to landscape design and maintenance that emphasizes water-use efficiency. This class does not discuss specific plants, but provides a solid foundation regarding landscape planning before selecting plants.
The three-hour seminars are fast-paced and informative. They offer solutions to common landscape problems. Participants will learn to think about landscapes from the soil up. In addition, they will learn how to design landscapes that are sustainable in the San Diego climate. Class topics will include how to make the best use of the region's limited rainfall, irrigate efficiently and choose the best plants for each yard.
For information about all of the free WaterSmart landscaping classes in the County, please visit: Water Smart California Friendly Landscape Training Class.
---
Report water waste by calling (619) 533-5271 or sending an email to [email protected].
General Water Conservation Information: (619) 533-7485
For other questions or concerns, see the

Frequently Asked Questions, or call (619) 515-3516 or email [email protected]