Free Balboa Park Tram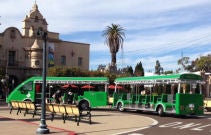 Let us take you where you want to go by taking the free green tram. All trams are equipped with an ADA-accessible ramp for your convenience. Please ask the conductor for assistance.
You can get to the tram by driving or riding a City bus to "Inspiration Point" which is conveniently located at Park Boulevard and Presidents Way (parking lot on the south side of Park Boulevard). Inspiration Point provides ample parking and easy access to Tram Central, the starting point for the free tram transportation service. Tram Central offers benches and shade to Balboa Park visitors.
Every day and every 10 to 15 minutes, the tram will stop at Tram Central to pick up and drop of Park visitors. Summer hours of operation are from June 1 through Oct. 31, daily from 9 a.m. to 8 p.m. Fall/winter hours of operation are from Nov. 1 through May 31 daily, from 9 a.m. to 6 p.m. Last pickup from Tram Central will be 15 minutes prior to the end of tram operations for each day.
The tram makes its way through the Park, stopping at most of the Park's most popular destinations. They are the Plaza de Panama (in front of The Prado), the Spreckels Organ Pavilion and Pan American Plaza (Palisades Lot).
Information about Balboa Park's buildings and gardens, and park brochures are available at the Visitor Center, located in the House of Hospitality (Plaza De Panama Stop), which is the first stop from Inspiration Point.
For more information, please call (619) 235-1100.