In the Water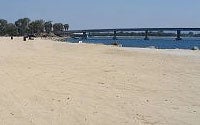 Mission Bay boasts 27 miles of shoreline, 19 of which are sandy beaches with eight locations designated as official swimming areas.
Swimmers and sun lovers are drawn to the excellent surf conditions and soft sand Mission Bay's beaches offer. Mission Bay offers boat docks and launching facilities, sailboat and motor rentals, bike/walk paths, basketball courts, and playgrounds for children. It's one of San Diego's most fun-filled spots to visit. Public restrooms and showers are available and lifeguard stations are located in designated areas.
Nestled in the west end of the beach is a network of channels and islands - a perfect spot for everyone from wind surfers to water skiers. It's your choice to swim, enjoy the sun, rent a boat and explore the thousands of acres of waterways.
On land
Many people prefer to stay on shore and spend their leisure picnicking, riding a bike along the paths, playing volleyball, or flying a kite. There are close to 14 miles of bike paths along Mission Bay.