Proper Disposal of Household Hazardous Waste
Household hazardous waste is any hazardous waste generated incidental to owning or maintaining a residence, vehicle, or yard. Waste examples: paints, solvents, varnishes, acids, flammables, acrylics, resins, motor oil, and gasoline.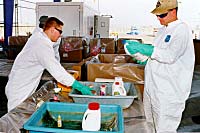 Auto Products
City of San Diego residents can take leftover auto products (motor oil, antifreeze, oil filters, and auto batteries) to periodic auto products recycling events.
Or, take leftover auto products to more than 90 locations that accept one or more of these products.
Household Hazardous Waste
For more information about auto product recycling or household hazardous waste, call Environmental Services at 858-694-7000.