Preventing Childhood Lead Poisoning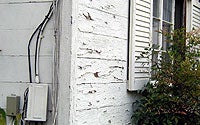 Make sure your home does not expose children to lead. Keep children away from cracked, peeling, and chalking paint.
Repair these conditions using safe work practices as soon as possible. View this 15-minute "Keys to Lead Safety" video

and follow the guidance included in the EPA's

Steps to LEAD SAFE Renovation Repair and Painting" brochure, or take an 8-hour training course in Lead Safe Work Practices.
Hire only EPA Certified Contractors when doing home renovations in pre-1978 structures. Contractors who perform home improvement activities in housing built prior to 1978 are required to be certified in accordance with the EPA Renovation, Repair, and Painting (RRP) rule.
Visit the U.S. EPA to locate an EPA Certified Firm in your area. EPA Certified Contractors are required to provide you a copy of the EPA booklet "Renovate Right".
If you plan on doing your own home renovation, first learn how to do the work correctly so you don't contaminate yourself or your household. Download a free copy of "Don't Spread Lead" in English, Spanish or Vietnamese.
Regularly check for moisture intrusion and paint damage. The source of the lead-paint hazard, such as leaks and moisture intrusion, must be repaired before the paint hazard can be fixed.
Become trained to fix lead hazards safely or have a friend or family member get trained to help you fix lead hazards.
Wet-dust and clean floors and window sills regularly with a solution of water and detergent.
Wash hands frequently with soap, especially before eating.
Wash children's toys frequently, because invisible lead dust may be present on them.
Teach children to keep non-food items out of their mouths.
Make sure the candy that your family eats is lead-free. The candies shown on this page are high in lead. Do not eat imported candies, especially tamarind and chili-based candies from Mexico unless you know they are safe. Visit the California Department of Public Health Service Food and Drug Branch for an alphabetical list of candies that have been identified as containing lead.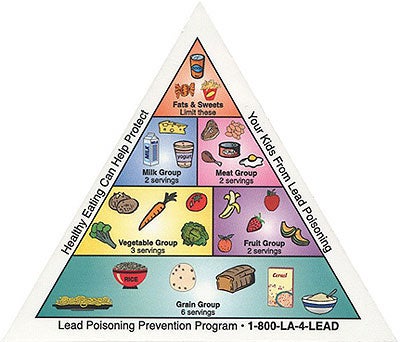 View Larger Image
(PDF)  
Nutrients can help prevent the absorption of lead that is ingested. Provide children a well-balanced diet, low in fat and high in iron, calcium, zinc and vitamin C.
Do NOT cook, serve, or store food in opened cans, in dishes or pottery that contain lead, including water dispensers or in leaded crystal. Learn more about traditional pottery at the FDA website.