Hazardous Substances Enforcement Team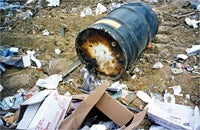 The City of San Diego's Hazardous Substances Enforcement Team conducts random inspections of commercial and residential refuse loads entering the Miramar Landfill to ensure the loads contain only wastes that the landfill is permitted to accept. Unacceptable wastes include hazardous waste, infectious waste, liquid wastes, PCBs, radioactive waste, and universal waste. Inspections diverted approximately 19 tons of hazardous waste from the Landfill in fiscal year 2010.
Businesses and residents with loads containing:
must obtain preapproval prior to disposal. To obtain preapproval, customers need to complete a Special Waste Disposal Request with required supporting documents. Requests usually take 24 hours to process before the load can be scheduled for disposal. Manifest and special handling fees are listed in the Miramar Landfill Fee Schedule and Regulations.
Information Contacts and Resources
For Special Waste Disposal Request forms and related documents, contact Kirk Galarneau, Supervising Hazardous Materials Inspector, via email at [email protected] or telephone at 858-573-1415.