Community Forest Advisory Board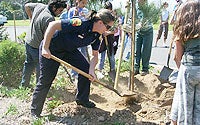 Jump to links:
The City's award-winning Community Forest Advisory Board is charged with advising the Mayor on all policy issues relating to urban forestry. There are 14 board members appointed by the Mayor and the City Council.
History
The Community Forest Advisory Board was established in 1999 (

Municipal Code 26.051 - 26.053) to provide advice and recommendations directly to the Mayor and City Council on all policy issues relating to urban forestry. The vision statement for the Board is to "create mechanisms for establishing, advocating and stewarding, in perpetuity, a healthy urban forest and thereby a healthy, attractive and prosperous city." The board was tasked with advocating for proactive urban forestry policies, ordinances, and guidelines.
Board Members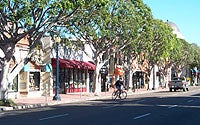 The Community Forest Advisory Board is comprised of fourteen members appointed by the Mayor and confirmed by the City Council and represents community members who have a particular insight into local community forest issues. The staff of the City's Office of Small Business, in addition to their department responsibilities, serves as staff to the board, carrying out specific projects initiated by the board.
Additionally, staff from the Development Services, Park & Recreation, and Transportation & Storm Water departments regularly participate in an advisory capacity.
What Types of Issues Does the Board Address?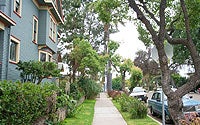 Promoting a healthy urban forest is high on the list of issues that the Community Forest Advisory Board addresses. To achieve this, the board is tasked with preparing a comprehensive urban forestry master plan and tree inventory, reviewing urban forestry related policies and programs, networking with other boards, agencies and community residents, acting as a general information resource, and promoting volunteerism, reviewing the implementation and compliance with urban forestry policies and programs, seeking funding for the establishment and sustaining of an urban forestry program, and promoting and fostering a strong sense of community through urban forestry.
Urban Tree Canopy Workshop
The Urban Tree Canopy Assessment is (almost) completed and it's filled with fascinating data and maps!  A workshop was held on Wednesday, October 5, , at the War Memorial Building in Balboa Park that shared how this Assessment can be used to; set tree canopy goals for how many (and where) trees can be planted, Correlate tree data with other community data layers (demographics, health, thermal load, stormwater runoff), and Incorporate data into climate action plans, general and community plans, and project designs.

A copy of the presentation is available here
Meetings
The Community Forest Advisory Board usually meets each month and any member of the public is invited to attend. Individuals and representatives of community groups may appear before the board to relate challenges impacting residents that are either caused by or can be resolved by the Community Forest Advisory Board or the City of San Diego.
Meetings Times and Locations
The Community Forest Advisory Board meets the second Wednesday of each month and the public is welcome to attend. Meetings convene at 11:45 a.m. in the City Administration Building, 202 C St., 12th floor, Conference Room A, in downtown San Diego.
Agendas
2019
Meeting Minutes
2018
Links