Balboa Park Facilities E-H
El Cid Statue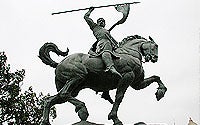 The 23-foot tall statue represents the hero of Spain's war against the Moors, Rodrigo Diaz de Bivar, known as El Cid.
Fire Alarm Building
Originally constructed as relay and dispatch station for fire alarms located throughout the City of San Diego, this building near Marston Point now houses the Park & Recreation Department Administrative Services section. Panoramic views of the City and harbor abound from this small gem of a building created by Robert Snider, co-designer of the original Museum of Art structure.
Golden Hill Community Park
The Golden Hill Community Park is available for special events.
Hall of Nations
Houses that do not currently have cottages of their own utilize the Hall of Nations on Sunday afternoons between noon and 4 p.m. to present treats and exhibits from their countries and cultures.
House of Charm
The House of Charm was called the Indian Arts Building when it was originally created for the first exposition. In 1916, as international exhibitors traveled south from recently closed Panama Pacific International Exposition held in San Francisco, the lath and plaster structure was renamed the Russia and Brazil Building. It acquired its current name, the House of Charm, during the second exposition. Like many other exposition buildings within the Park, the House of Charm was taken over by the military during WWII. Due to its poor condition, the building was torn down and rebuilt to exacting specification in 1996. Represented on the National Register of Historical Places, the House of Charm is now home to the Mingei International Museum; the San Diego Art Institute, featuring art produced by local artist; and three full-scale rehearsal spaces belonging to The Globe Theaters.
House of Hospitality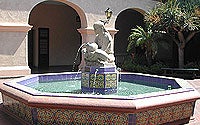 Built for the 1915 Panama-California Exposition to serve as the Foreign Arts Building, this structure was substantially altered and remodeled by architects Richard Requa and Sam Hamill for the 1935 California Pacific International Exposition, and became headquarters for the Women's Executive Committee. The building is currently being operated by the House of Hospitality Association and serves as a community center for the Park. In addition to the Balboa Park Visitor's Center, the House of Hospitality houses the Balboa Park Police Satellite Office; the Balboa Park Promotions Office; numerous spaces for nonprofit, park-related organizations as well as The Prado Restaurant. This beautiful, national historic landmark, graced by sculptor Donal Hord's Aztec Woman of Tehuantepec fountain in the inner courtyard, is a near-exact replica of the original structure, rebuilt in 1997 using many of the decorative elements from the 1935 era.