Mission Valley
Community Plan Update Subcommittee (MV CPUS)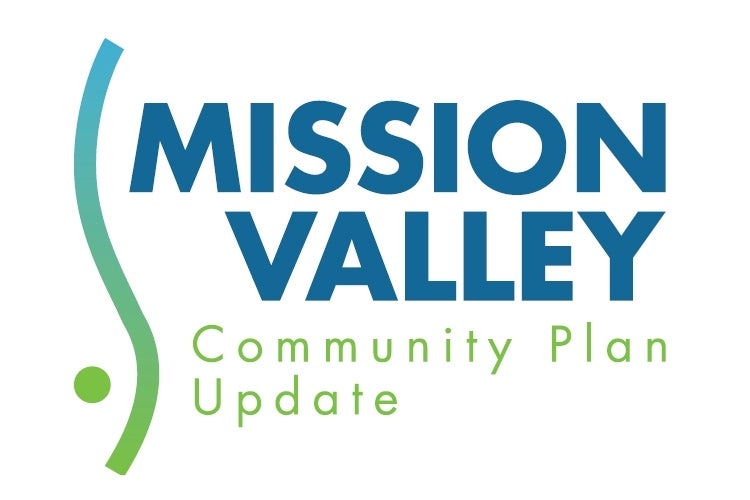 The Community Plan Update Subcommittee (CPUS) is a subcommittee of the Mission Valley Planning Group, which the City's recognized citizen's group for Mission Valley. This subcommittee was created specifically for the Community Plan update in order to provide feedback to the City regarding the process.
CPUS meets the second Friday of every month in the community room of the Mission Valley Branch Library, 2123 Fenton Parkway, from 3 to 4:30 p.m. Those interested in the update process are encouraged to attend.
The August 11, 2017 meeting of the Mission Valley Community Plan Update Subcommittee will be held at Westfield Mission Valley Mall (1640 Camino Del Rio North) in the former Bath and Body Works across from Ruby's Diner at its usual time 3 to 4:30 p.m. in preparation for the August 12, 2017 Community Open House on future land uses.

Click here for more information on the Community Open House on Future Land Use. 
July 2017 - Alternatives Evaluation: Eastern Mission Valley
June 2017 - Alternatives Evaluation: Western Mission Valley
May 2017 - Alternatives Evaluation: Central Mission Valley
April 2017 - Future Growth and Mobility
March 2017 - Via las Cumbres Interchange and Freeway Improvements 
February 2017 - Conceptual Land Use Alternatives
January 2017 - No CPUS Meeting
December 2016 - No CPUS Meeting
November 2016 - No CPUS Meeting
October 2016 CPUS Meeting - Major Infrastructure and Active Transportation
September 2016 CPUS Meeting - Historical Context, Adaptive Reuse, & Partial Redevelopment
August 2016 CPUS Meeting - Urban Design Guidelines and Applications of Design
July 2016 CPUS Meeting - Parks & Open Space Opportunities
June 2016 CPUS Meeting - Addressing the San Diego River
May 2016 CPUS Meeting - Urban Form and Character
April 2016 CPUS Meeting - Building Blocks of Alternatives
March 2016 CPUS Meeting - Mobility Issues and Options
February 2016 CPUS Meeting - Land Use Issues and Options
January 2016 CPUS Meeting - Mobility Planning
December 2015 CPUS Meeting - Park Planning
November 2015 CPUS Meeting - Workshop Results and Visioning
October 2015 CPUS Meeting - Existing Conditions
September 2015 CPUS Meeting - Path of Discovery
August 2015 CPUS Meeting - Legislation
Subcommittee Interest Meeting