Balboa Park Facilities H-M
House of Pacific Relations - International Cottages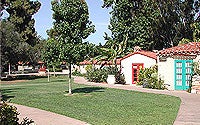 These charmingly utilitarian structures were built to resemble a colonial-era village in Mexico. Today, they provide space for groups, representing over thirty countries, to display the arts and culture of their homelands. Nearly every Sunday, a different cottage plays host to a garden party, which showcases the folk traditions and culinary delights of the featured country. To find out more information, visit the House of Pacific Relations website.
Japanese Friendship Garden
A Japanese garden and tea house were among the featured attractions of the original exposition. Over time, all vestiges of this complex disappeared. In the early 1990s, a new Japanese Friendship Garden took shape along the canyon rim north and east of the Spreckles Organ Pavilion. This beautiful, organic, artwork-in-progress has gracefully expanded and evolved over time. Along the meandering paths, through carefully tendered landscapes, one may find: a tea pavilion replete with sushi bar; a koi pond; the Japanese Friendship Gates, from San Diego's sister city of Yokohama; and fine examples of the traditional art of bonsai.
Lawn Bowling Greens
Two regulation 120 by 120 foot bowling greens built in 1932 and used by members of the San Diego Lawn Bowling Club.
Lily Pond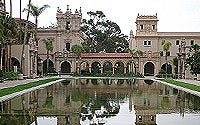 The Lily Pond was built for the 1915 Panama-California Exposition to serve as a reflecting pool and to display water lilies. During World War I, the U.S. Navy, which was occupying Balboa Park, used the pond as a swimming and rehabilitation pool for its soldiers. A new filtration system was installed in 1994, and a renovation of the pool was completed in 1999.
Marston House Grounds
The Marston House Grounds are available for special events.
Marston Point
Marston Point is available for special events.
Miniature Railroad
For over 50 years, a 48-passenger train has run along 2,200 feet of track adjacent to Spanish Village. Currently operated by the San Diego Zoological Society, the train carries passengers of all ages every day throughout the summer and on weekends and school holidays during the rest of the year. The heart of the operation is a one-fifth scale model of a General Motors Model F-3 diesel locomotive, famous for providing motive power to the Santa Fe Super Chief trains which one plied the southwest.
Moreton Bay Fig Tree
This Balboa Park landmark, located north of the San Diego Natural History Museum, was planted in 1915 for the Panama-California Exposition. The tree is more than 70 feet tall, with a canopy spread of 125 feet and a trunk diameter of 13 feet. Because of soil compaction around its roots due to heavy foot traffic, this tree has been fenced in and is now thriving once again.