Mission Bay Lessees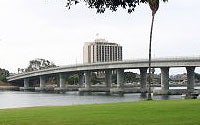 Current lessees include Sea World, five resort hotels with associated restaurants and retail shops, marinas and boating rental facilities, and two travel trailer camping areas.
Mission Bay Endowment Fund
A charitable fund has been established to enhance the park amenities that are part of Mission Bay Park. The Mission Bay Endowment Fund enhances items not included in the City's budget. Established in 1987, contributions from individuals and organizations have helped and continue to help preserve Mission Bay Park as a place of recreational and ecological strength and beauty. For more information on the Mission Bay Endowment Fund, call (619) 239-8815.
General Information Phone Numbers
| | |
| --- | --- |
| Youth Campground: | (858) 581-7602 |
| Park Ranger Office: | (858) 581-7602 |
| Visitor Center: | (619) 276-8200 |
| Lifeguard: | (619) 221-8899 or |
|   | (619) 221-8800 |
| Coast Guard: | (619) 683-6500 |
| Beach and Weather Report: | (619) 221-8884 |