Community Planning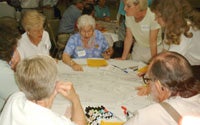 Most communities currently
have a Community Planning Group.
Planning Our City's Future, One Community at a Time!
You have come to the right place to find out more about how San Diego citizens are helping shape development decisions in their communities.
Overview and Background
The City of San Diego has a history of basing its land use policy plans on the individuality of its communities. Read more about community planning's history.
Community Planning Groups (CPG)
Community Planning Groups provide official recommendations to the City on community goals and land development proposals. Read more about Community Planning Groups.
Community Planners Committee (CPC)
The CPC, which is composed of representatives from the Community Planning Groups, provides a forum to discuss citywide planning issues. Read more about the Community Planners Committee.
Community/Land Use Plans
The General Plan and Community/Land Use plans together provide the policies and recommendations for land use in San Diego Read more about the Community Plans.
Community Profiles
Want to learn more about your community? Now you can view online information about your community's demographics, services and community planning related information. Select your community to learn more.
Get Involved in Your Community
Find out how you can participate in the decision making process in your neighborhood and the City as a whole. Ways to get involved in your community.
Other Community Planning Resources
For questions or concerns call, 619-235-5200 or email [email protected]