Sunset Cliffs Natural Park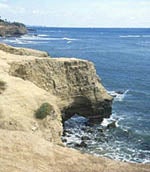 Recreation Council
The "Recreation Council", a City term used for officially designated park advisory councils, was chartered in 1988. It is governed by bylaws which were approved by the City of San Diego.
Membership is open to the public with attendance requirements as defined in the bylaws. All meetings are publicly noticed open forums. You are invited to attend meetings of the Sunset Cliffs Recreation Council, a group dedicated to the preservation and restoration of the unique Sunset Cliffs Natural Park.
Meetings:
First Monday of each month at 6:45 p.m.
Cabrillo Recreation Center
3051 Canon St.
(619) 531-1534
For more information, please visit www.sunsetcliffs.info.
Supported by the San Diego County Chapter Surfrider Foundation.