Community Planners Committee (CPC)
Important Announcement:

2018 CPC Meeting Dates and Location Change!
The meetings will be held in the Silver Room, City Concourse, 202 C Street, San Diego, CA 92101.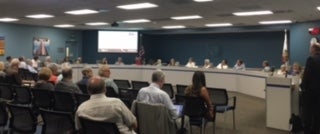 The CPC keeps communities in communication
The Community Planners Committee (CPC) was instituted to ensure communication and to solicit citizen input on citywide issues among the various planning groups in the City under the direction of

Council Policy 600-09.

Council Policy 600-24 designates each Community Planning Group chair to also be the group's representative at the CPC.
CPC meetings provide a forum to discuss citywide planning issues. The meetings often include presentations by City Planning Department staff and other speakers on topics of interest to the CPC. The meetings are an opportunity to network with other community leaders and discuss important policy or development issues with City Planning staff. Positions taken by CPC about important issues provide a key link with decision makers at City Hall and in the various City Departments. In addition, the CPC has formed subcommittees to review various issues in depth, and has made recommendations of great value to City decision makers.