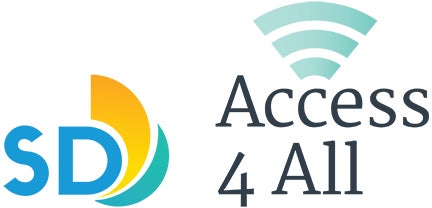 SD Access for All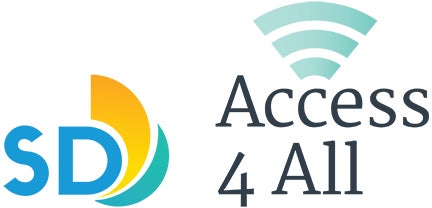 SD Access for All
Creating internet connectivity options for all of us
Creating internet connectivity options for all of us
Program Features
Open public Wi-Fi at over 300 locations
Check out laptops and cellular hotspots at select libraries
Affordable Connectivity Program for discounts on at-home internet service
Low-cost computers
available for qualified applicants
Get free one-on-one tech support from a Digital Navigator
Tech on the go! Improve your computer and internet skills by taking a free class
---
SD Access 4 All Tool Kit
---
Open Public Wi-Fi in San Diego
The City of San Diego is taking action to close the digital divide that leaves tens of thousands of San Diegans without internet access. Through the SD Access 4 All program, the City is now offering open public Wi-Fi at over 300 public locations.
List of public facilities with open public Wi-Fi
The following libraries include an outdoor community computer lab with tables, chairs and shade canopy along with free Wi-Fi:
Wi-Fi is pending for the following recreation centers:
Use the interactive map below to find open public Wi-Fi near you
Locations include City libraries and recreation centers, as well as over 250 street locations in historically underserved neighborhoods.
How Do I Access Open Public Wi-Fi?
Follow these five simple steps.
Find a location with open public Wi-Fi above.
Go to the location with a web-enabled device like a smartphone or laptop.
Open settings on the device.
Connect to the network and accept the terms of use. 
At library locations, the network is "SD Library Wi-Fi."
At park sites, the network is "Free Wi-Fi San Diego" or "SDAccess4All."
At street spots, the network is "SDAccess4All."
Open a new web browser and start searching the internet!
The Do's and Don'ts of Using Open Public Wi-Fi
The SD Access 4 All program provides open public Wi-Fi through unsecured networks, which can be connected to without a security feature, such as a password or login. Always use caution when utilizing public Wi-Fi on unsecured networks to protect your personal information. A good rule to follow is to only access information that you would feel comfortable having someone else look at over your shoulder (reading the news, doing homework, looking up the weather forecast, etc.).
Here are the basic DO's and DON'Ts of using public Wi-Fi:
DO look for the 's' to identify secure websites (starting with https://).
DO use an alternative browser or incognito mode.
DO turn off automatic connectivity in unfamiliar places to avoid connecting with unfamiliar networks.
DO be cautious of using Bluetooth connectivity in public places due to security risks.
DO make social media accounts private.
DON'T trust unsecured websites (starting with http://) that ask for personal information.
DON'T access personal information, such as bank accounts or other sensitive data.
DON'T click on suspicious links or documents.
DON'T leave laptop, tablet or smartphone unattended in a public place.
DON'T shop online as online purchases require payment or retailer login information.
Helpful tip: If you are creating a password, the longer it is the better. Use special characters, capital letters and numbers in random ways. One suggestion is to use four random, unusual words that make no sense together.
---
Improve Your Computer Skills & Get Tech Savvy
Need Computer Help? Call a Digital Navigator
The Digital Navigator Program offers free, one-on-one assistance to help San Diegans obtain low-cost computers, sign up for affordable internet service, improve their computer skills or get basic tech support. Call 1-800-350-6945 to get help by phone or schedule an in-person appointment.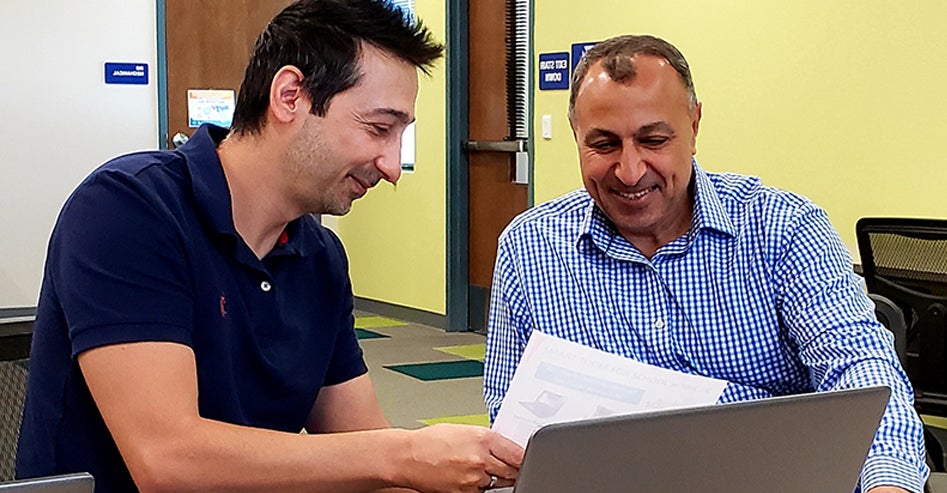 Learn Computer Skills with 'Tech on the Go'
A new mobile digital literacy program – Tech on the Go – is offering free in-person classes for any San Diegan who wants to learn how to use a computer and better navigate the internet. Classes are held at libraries and community centers and open to people of all skill levels. Check out the schedule and register for a class!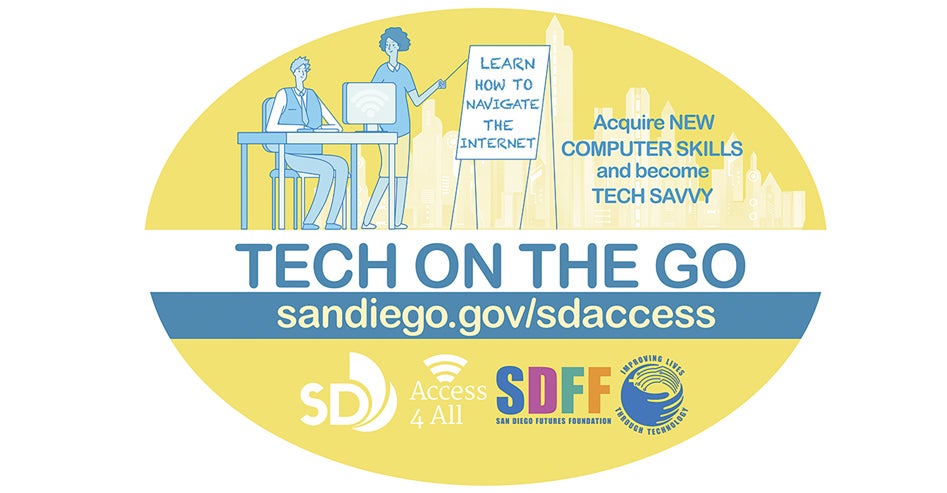 Low-cost Computers Available for Qualified Applicants
The City of San Diego has a partnership with Computers 2 Kids to refurbish computers from local businesses so they can be distributed to low-income families. Fill out an application to see if you qualify.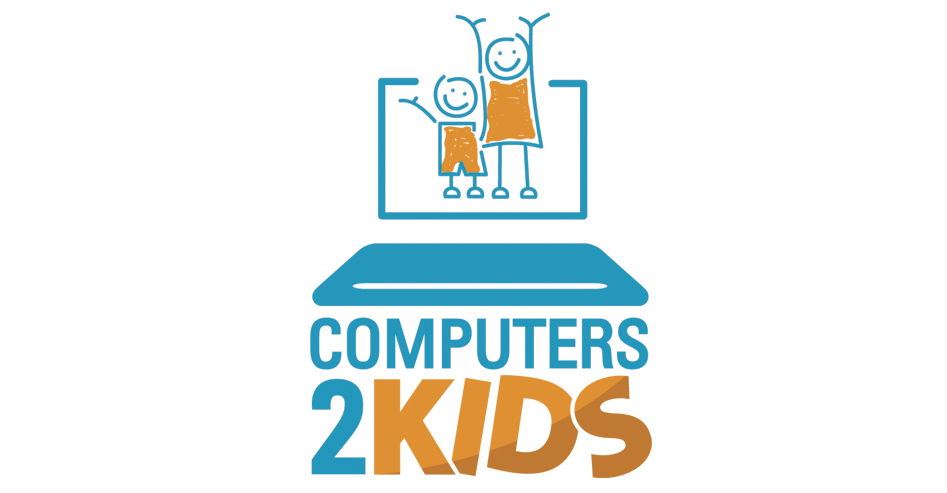 ---
New Internet Connectivity Options at San Diego Public Libraries
More Laptops Available Than Ever Before
The City has added hundreds of new laptops to the Library's collection that are available to use on-site at neighborhood libraries, depending on availability. Laptops can be used for up to two hours at a time.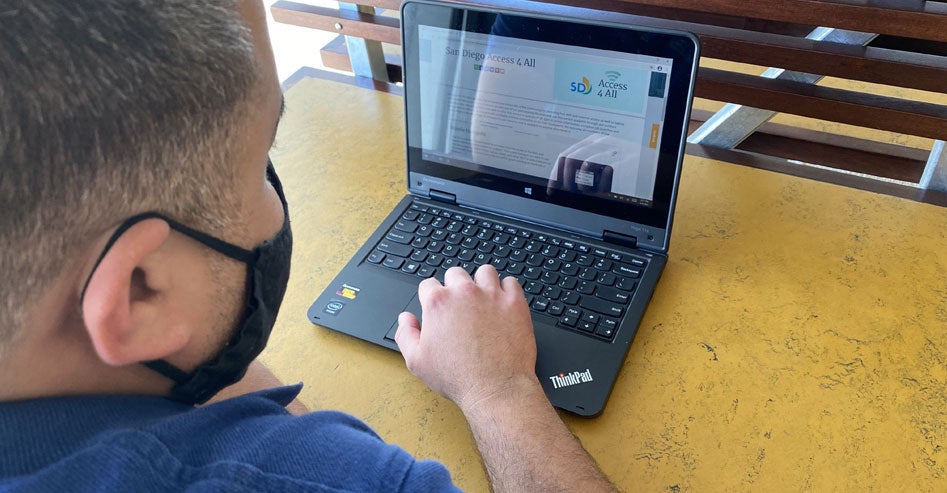 New Mobile Hotspots Available for Check Out
Through SD Access 4 All, the City has acquired 4,000 mobile hotspots that are now available to check out from libraries for home use. Mobile hotspots are easy to use and allow users to connect their laptop, tablet and other Wi-Fi enabled devices to the internet. The device converts cellular signals into Wi-Fi to provide internet access for email, web browsing and other data transfers.
Library patrons must have a library card in good standing to check out a hotspot for up to 90 days at a time. To learn more, visit the mobile hotspot information page or one of the following participating library locations where hotspots are available.
Outdoor Community Computer Labs
The City has created 10 outdoor community computer labs to serve patrons of all ages. Each lab is equipped with open public Wi-Fi and has tables and chairs set up with appropriate physical distancing. Patrons can bring their own laptop or use one from the library to get connected. To learn more, visit the outdoor computer lab information page or one of the following participating library locations where outdoor computer labs are available.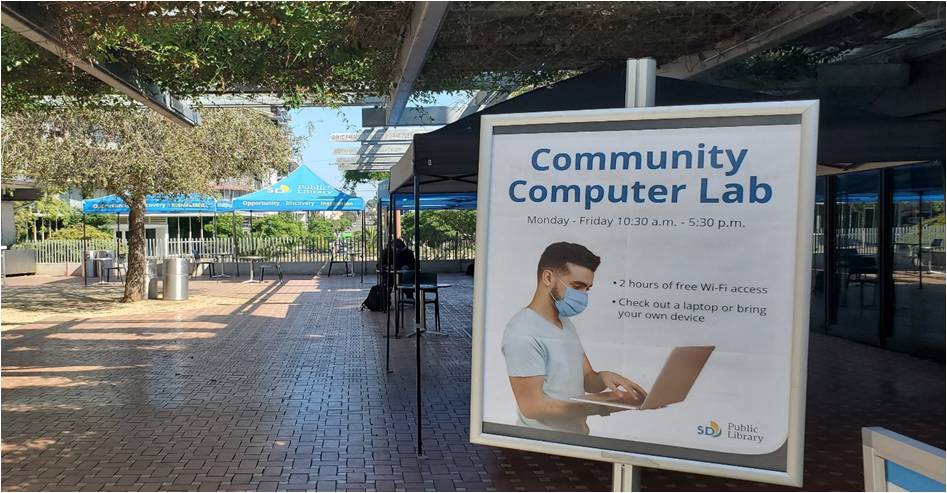 If you have questions about any of the Library's free offerings, please ask a librarian during your next visit.
---
Breathing Life into Aging City Computers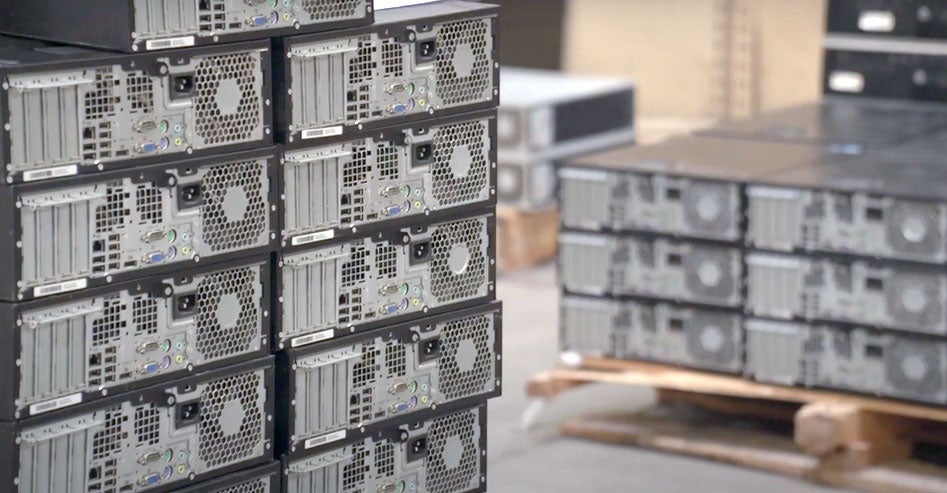 The City is giving away its end-of-life computers so they can be refurbished and offered to individuals who do not currently have a computer. Through a partnership with San Diego Futures Foundation, a 501(c)3 nonprofit based in City Heights, the City has donated over 2,200 computers to help bridge the digital divide so far and plans to provide about 800 more each year.
As part of this partnership, the Futures Foundation provides training to help recipients of the computers get off to a quick start and provide them with the resources to find affordable internet services.
In addition, the City has a partnership with Computers 2 Kids to refurbish 2,000 computers from local businesses so they can be distributed to low-income families.
---
Thank You to Our Partners
The SD Access 4 All program is brought to you for a public purpose by the City of San Diego and its partners. The San Diego Parks Foundation helped support open public Wi-Fi at two dozen parks locations while the San Diego Public Library Foundation supported the Library's outdoor community computer labs and laptop expansion.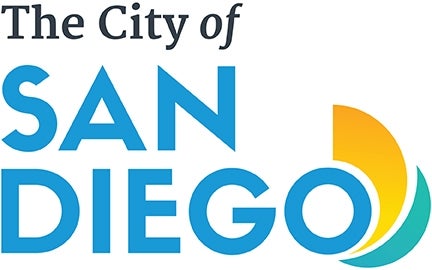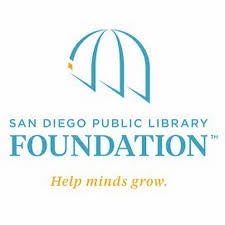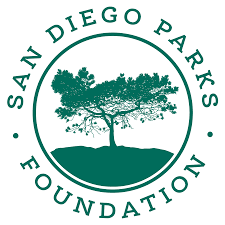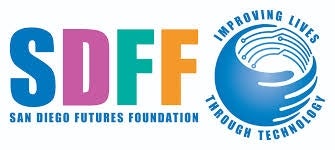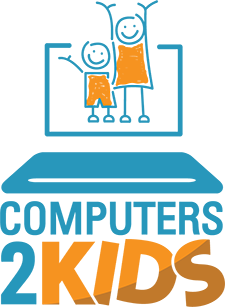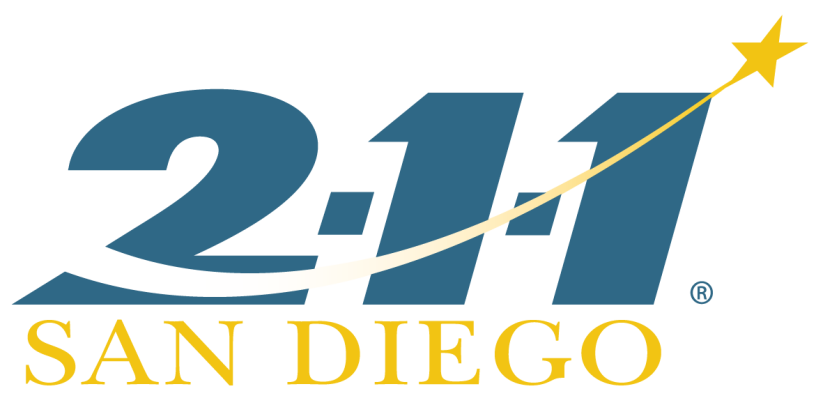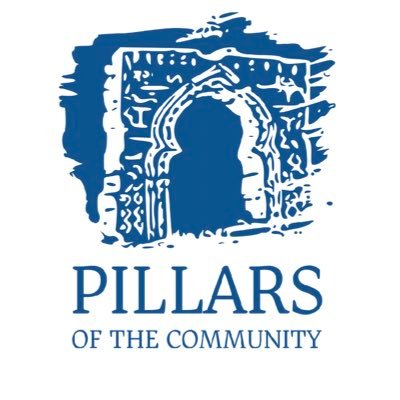 ---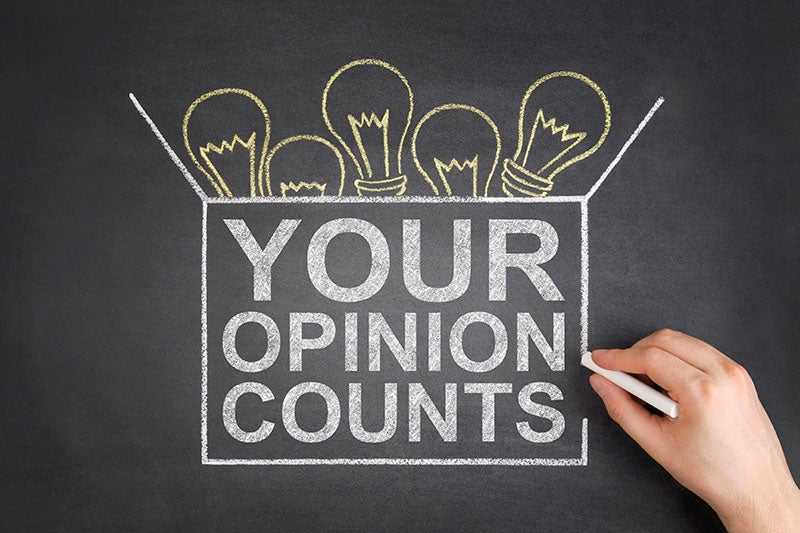 Let Us Know What You Think
Have time for a voluntary survey? We need your feedback to properly serve the community and identify needs. Help us make the SD Access 4 All program better for all of us.
---
Privacy Notice
The open public Wi-Fi provided through the SD Access 4 All program is available to everyone and is accessible without providing any personal information. The City of San Diego values your privacy and does not monitor, collect, store or block any user data or content. Use at your own risk.